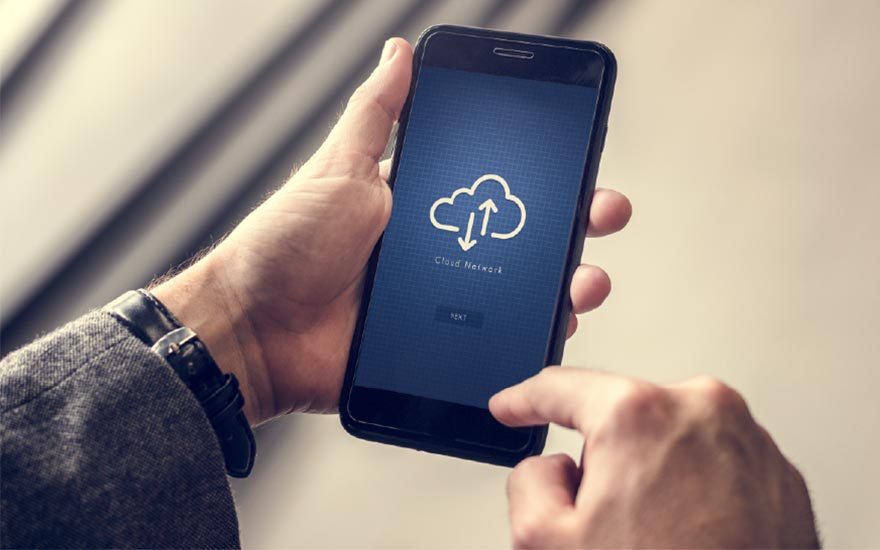 Have you ever lost or damaged your smartphone? If you're an independent, it could be a disaster. With the Replacement phone option in your Bizz All-in package, you can get a free replacement device from us. In just such an instance, it is useful to have a recent backup of your data to hand. To find out how to backup your iPhone or Android phone, read on:
If you're an independent, the data stored on your smartphone is of vital importance to you, as you need this information to function and work correctly. It could be things like customer and supplier data, but also your appointments calendar, professional documents, and digital invoices. It is recommended to backup the data on your phone regularly. But how does one go about doing that?
Backing up your iPhone
Using either iCloud or iTunes, you can backup your phone. Below is a step-by-step description of the process.
Automatic back-up using iCloud
Apple offers 5GB of free iCloud storage as standard. You can use this storage space to automatically make a daily backup of your data. If you need more than 5GB, you can always buy more storage space. Please note: your iPhone must be connected to a Wi-Fi network for the daily backup.
Step 1: connect to a Wi-Fi network.
Step 2: go to settings and click on your name at the top of the menu.
Step 3: go to iCloud.
Step 4: tick all the apps you want to automatically backup (i.e. contacts, photos, calendar, WhatsApp, etc.).
Step 5: scroll down to iCloud Backup.
Step 6: Activate iCloud Backup.
Step 7: from now on, your phone will automatically backup your data overnight while your device is charging.
Manual backup using iTunes
Would you rather store your backups directly onto your computer? You can do this with iTunes. Just remember to regularly backup your iPhone by connecting it to your computer.
Step 1: connect your iPhone to your Mac or computer.

Step 2: open iTunes and select your iPhone.

Step 3: select the summary tab and activate backup.

Step 4: activate to make a new copy.
Backup your Android smartphone
You can regularly and automatically backup your Android smartphone using the Google Drive servers or on your computer. Read our step-by-step guide below.
Backup using Google Drive
Step 1: go to settings.
Step 2: go to back-up.
Step 3: tick the option "backup my data".
Important to know: Using the method described above, pictures and WhatsApp conversations are not automatically backed up. You need to back these up directly through your picture and WhatsApp applications.
Backup using your computer
Step 1: connect your smartphone to your computer.

Step 2: click your smartphone in the "My Computer" folder.

Step 3: select all files and copy them.

Step 4: paste the files in a relevant folder on your computer.
Backup + replacement device = no smartphone stress
Creating a backup of your phone is easy. It helps alleviate potential troublesome situations in the future if ever your device gets stolen or broken. With the backup, you can simply and easily transfer all your data to a new device.
Find out more about the replacement smartphone option for Bizz All-in customers.