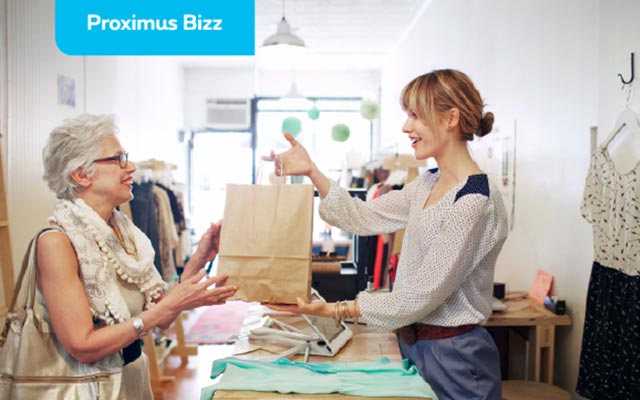 The onslaught of e-commerce means that you, as a retailer, need to come up with smarter solutions all the time. To attract customers you need to put more effort into experiences and a better service while at the same time keeping a close eye on all the different channels the customer is using. In other words, you need to go for smart shopping. But how do you get started?
Last September, Proximus, Unizo, RetailDetail and a range of other partners organised the Future of Shopping (FOS) Roadshow. This mobile experiential centre offered visitors a chance to test the future of shopping and provided concrete tips and inspiration for their own businesses.
Customer journey
The 'customer journey' is the journey a customer takes from the first idea through the actual purchase and into the aftersales process: how do you keep in touch with your customers and how do you keep them informed on news, promotions, etc. "Understanding that journey is important," says Olivier Crucq, who manages the Independent and Small Business department at Proximus. "In this fast-changing world you constantly need to adapt and adjust your business in order to offer customers experiences that will make them want to come back."
Those experiences, and the customer loyalty that goes with it, are especially important for smaller businesses who not only have to compete with the big players on the market, but also with online competition.
Don't stop at the shop
"The most important evolution in the customer journey is that we have evolved to a real omnichannel environment. The client doesn't only shop online or in-store, but often mixes various channels," Olivier explains. "The consumer uses online for prospection, orders products online, looks for information and feedback on consumer forums. In that process, social media play a crucial part."
That sounds like bad news for brick-and-mortar stores, but it isn't really. "For a wide range of products, clients will get informed online, but they will make the actual purchase in-store. Customer often like to have a final check to see if the product lives up to its promise."
Feeling, tasting and smelling a product is still an integral part of the customer experience.
So how would you go about this?
Consumer behaviour changes extremely fast and, as an entrepreneur, you don't want to be left behind. Two tips can help you get into an omnichannel approach, even if you're a small business.
1. Make sure your business is online (as well)
Get a web site or a page on social media started for your enterprise. And make sure it can get found very quickly. If a customer is looking for a relevant product, she needs to be able to find you.
2. Offer your customer a great shopping experience
New technologies are one way to go about this, but don't forget the power of good old customer service. A satisfied customer will not only come back, she will also share positive experiences with friends and followers in real life and on social media.
A network in you shop
"Every new technology, every new gadget, is based on a good network, " says Olivier. "Connectivity is not only important for your customers, but for yourself as well. It allows you to work on your administration in the shop itself. You can manage stocks, answer emails from customers or suppliers, etc."
In order to guarantee good connectivity in your shop, you can power up your network with wifi-extenders or Powerline adapters. Those last ones distribute the network signal through the existing power cables in your store. As a result: wifi signals will be optimal in every room. You can also strengthen the existing 3G network with solutions like the budget-friendly Mobile Coverage Extender. This will give your customers a great signal reception inside your store.
What does the future hold?
So what does this smartshopping future look like? We've listed a couple of options.
The interactive shop window
Businesses such as temp agencies or travel agencies often use printed posters to advertise offers. But even that printed poster can be made interactive, simply by adding a QR-code. When the customer scans the code with his smartphone, he immediately gets the details of all the offers, selects the ones he likes and, in the case of travel, even order online.
Mobile payment
Less and less young people still carrry cash around. Not only are debit cards increasing in popularity, very soon it will be possible (it already is in some cases) to pay with your smartphone. Big players like Bancontact already have apps that allow you to pay via your tablet or smartphone and, pretty soon, the need for a physical cash registar will all but disappear.
Make life easy for the customer
A great customer experience also comes through innovations that make the life of the customer easier when she's actually in your shop. Think about screens in fitting rooms that suggest extra colours or sizes, mirrors that can replay your pirouette so you can see if that new pair of pants really fits. In the future, we'll see more and more of these innovative applications hitting the stores!