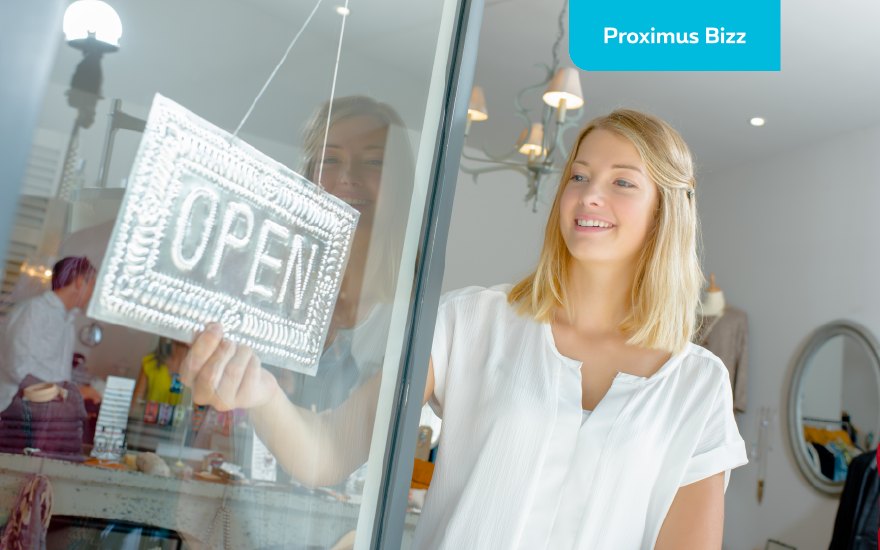 43% of Belgians use their smartphone while shopping. And 61% of young people do so during an evening at the pub. So, Wi-Fi in your business puts you a step ahead. What do you need to watch out for if you want to offer a free Wi-Fi network like this? Greet Ilsbroux of Proximus explains.
Why is it best to keep your network separate?
"It's essential to keep the guest network and the network of the store or company itself strictly separate," says Greet Ilsbroux. "Sometimes you see that a café, a store or a coffee house opens up its own Wi-Fi network and customers just have to come and ask for the password. That is not a good idea: you really don't want customers to be able to access your network and tinker with wireless security cameras, for example. Or start downloading illegal content. If you get into trouble later on as a result, you're responsible."
Login screen for guests
So, it is a good idea to set up two networks: one for yourself and one for your customers. It is also a good idea to set up a login screen for your guest Wi-Fi. Your customers leave a few data here in return for the browsing time. "Keep these data as short and customer-friendly as possible," is Greet's tip. And be careful: as soon as you start to collect this sort of data, you are responsible for it. What's more, new legislation will be coming into force shortly: the GDPR rules that you have to comply with, even as a self-employed person.
Bizz Guest Wifi
"Setting up a separate guest Wi-Fi and a login screen is not that easy technically. Many routers don't offer these options. With Bizz Guest Wifi Proximus takes care of the configuration of a separate Wi-Fi network itself. And you don't have to worry about the new privacy laws. You can focus on what really counts: your own business!"
Greet Ilsbroux has worked at Proximus for twenty-five years, as marketing manager for all fixed solutions. In her free time, she likes to follow football with her son and watch series on Netflix.