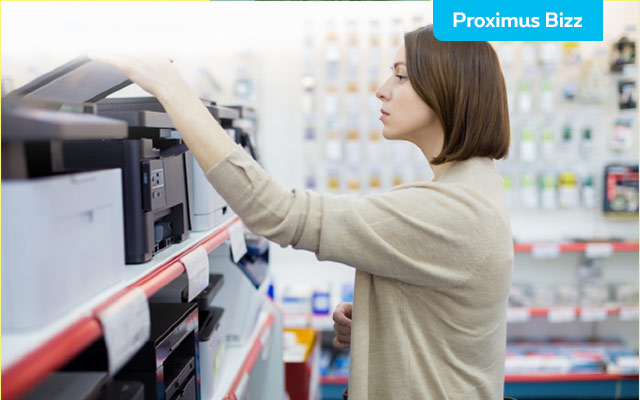 Most businesses have little idea how much their employees print and what the actual cost per printed page is. Yet, this is a cost item where you can really save money. The following tips will get you started.
The days when printers cost and arm and a leg are fare behind us. So a lot of businesses tend to devote less attention to the cost of printing. How much you actually spend doesn't really depend on the purchase price of your printer, but rather on the operating costs.
Inkjet or laser?
A first cost factor is whether you are using a laser- or inkjet printer. If you very rarely print documents, you're better off buying an inkjet printer. These are still cheaper than laser printers. Printing a lot of documents? Then opt for a laser printer: the toners tend to be a bit more expensive, but they will last much longer.
Double-sided printing
Double-sided printing is a cost-saving classic: if you print more than one page, you immediately cut the paper cost in half. So, if you can, switch your printer settings to double-sided printing per default.
Colour or black and white?
Printing a page in colour is much more expensive than printing in black and white. Often, a colour print is not really needed: for hand outs at internal meetings, it's rarely necessary to print everything in high-quality colour.
Measure to know
Do you have any idea how much you print, how and by whom? Most printer manufacturers pack their products with software to keep track of printing. This will immediately give you some idea of costs and will allow you to take measures, if necessary.
Save power
Printers don't only use ink an paper, but power as well. So make sure they swith to energy saver mode if they go unused for any length of time. The option should be available in your printer settings. This will drive energy consumption down. Outside of office hours, it pays to switch off your printers altogether.
Do you really need to print?
The best way of saving on printing costs is, of course, by not printing at all. That's an option if you manage to reduce the paper flow in your company to a minimum by switching to digital documents such as digital invoices. You can store those on a hard drive or in the cloud and easily share them with your colleagues. See what our OneDrive for Business can do for you. And feel free to request your Proximus invoices by email or Zoomit .