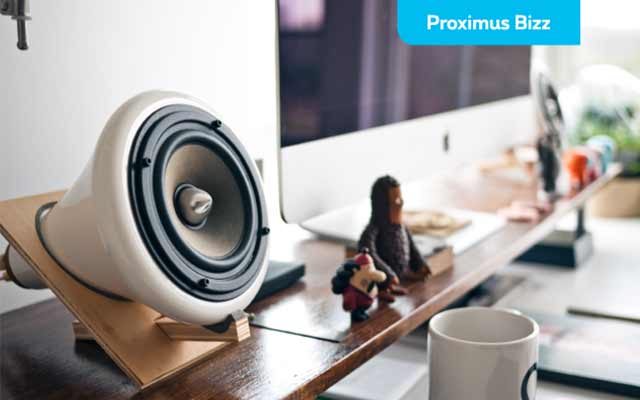 Do you have music in your business? Or do you use hold music on your phones? Then you have to pay a fee to Sabam. How much that is, what you need to take care of and how Sabam calculates its fees is a mystery to most business owners. So we'll provide a quick overview.
Open to the public?
Lots of businesses have music going in a corner somewhere. Via the radio, TV or online streaming. This article is about what you should pay for having music in areas that are not open to the public. Your workshop or production area, for instance.
In these cases, your fees are due to UNISONO. This company was founded by Sabam and Simim (who manage the rights of music producers) to calculate and collect royalties for music on the shop floor.
Why pay?
The moneys that UNISONO collects are used to compensate everyone who has been involved in creating music: from the author and composer to the artist and producer. So, contrary to what's often thought, Sabam and UNISONO are not the main beneficiaries of these fees.
What you have to do
You need to fill out and sign a user license and send it back to UNISONO. Easiest way to do this is online (in NL or FR).
In this form, you note where you play music, the size of your business, the number of employees, etc. Based on this you'll get a first invoice and, from then on, an annual invoice.
Pay as from nine employees
First the good news: if you have eight or less employees (FTE's or Full Time Equivalents), you don't have to pay anything to play music. Fees start as from nine employees and increase with the number of people you employ. Nevertheless, you still have to pay for hold music and music you put on your web site.
How is the fee calculated?
UNISONO has six areas of application for internal use of music or TV: the workplace, the canteen, staff parties inside the office, hold music on phone systems and background music for company web sites:
Music at your workplace

UNISONO considers every place where work is carried out to be a workplace. It doesn't matter if this is situated in- or outside of your business and whether or not the space is closed off. So if you're in construction and you play music on a construction site, you'll have to pay. How much you pay depends on the number of employees.

Company restaurants and canteens

For music in company canteens, the size of the space is taken into account, and not the number of employees. The bigger the space, the more you need to pay. If you also offer TV, you'll have to pay extra.

Double fees?

UNISONO is aware that a lot of business have music in both canteen and shop floor and would therefore need to pay two fees. To simplify things, they also offer a combined fee. This only takes into account the number of employees.

Staff parties

For staff parties, there is a separate arrangement. This is valid if your party is only accessible to employees and their families, is held within your own offices and is accessible free of charge. Think about birthday celebrations, a retirement do or the annual staff party. In these cases, again, the number of employees dictates the fee. But this time a fee is due as from six employees, instead of eight. And these fees only apply when you play recorded music, not for live shows.

Hold music

When you play hold music on your phone systems, the fee is calculated per number of employees, as from one, and the number of phone lines installed. With phone exchanges based on IP-technology, the number of FTE's (Full Time Equivalents) is taken into account.

Web site

Playing music on your web site? Then again the number of employees is the determining factor for the fee. And this time the fee starts as from zero employees. If you use so-called 'stock music' you pay a special 'synchronisation and use right'. But be careful: you can't use any musical piece of more than fifteen minutes, and visitors should not be able to download the music.
Rates
We've taken care not to mention specific rates in this article, because listing rates for every possible case would take us too far. Sabam's web site does have a comprehensive document that lists all the rates.