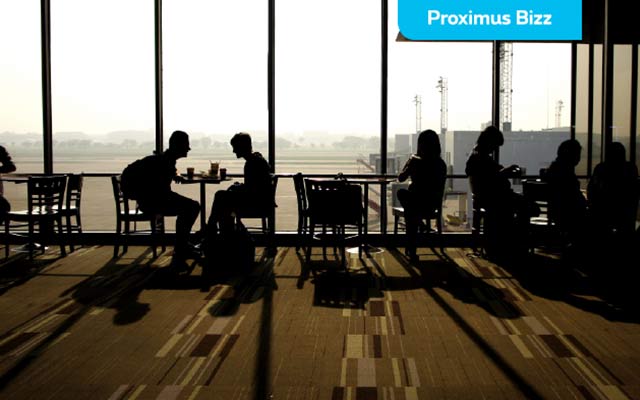 The world is just a big village, except when you need to make a phone call abroad. Then national frontiers do count. Phoning while on a business trip, holiday or city trip can do quite some damage to your phone bill. Want to phone cheaper without giving in on quality? We have the following tips for you:
Know our geography
Outside Belgium and within the European Union (actually: 28 member states plus Norway, Iceland and Liechtenstein) the applicable roaming rates have decreased by an average of -70% since 30 April last.
Via Proximus you know pay 5 (*) eurocents per minute for an outgoing call, 1,14 eurocents for an incoming call, 2 eurocents per text message and 5 eurocents for each MB of data (all prices excl. VAT). Except in Switzerland, where rates are higher.
Voicemail
Missed a call? Listening to your voicemail while abroad is payable as well. The cheapest way to avoid any unnecessary charges is to turn your voicemail off, which is not always a good solution for business people. A better solution might be to use a temporary message. Record a message saying you're abroad and ask your caller to send a text message or contact a colleague.
Budget-friendly calls
Don't want to worry about your invoice? Why not use our Daily Travel Passport option. For only 1,65 euro per usage day (excl. VAT), you can call for 20 minutes, receive 20 minutes' worth of calls, send 20 text messages and download 80MB of data.
Professionals who travel more frequently will like our Travel Passport Europe & Top Destinations. For 10 euros per month (excl. VAT) you call for 200 minutes, send 200 text messages and download 200MB in Europe.
www.proximus.be/bizzroaming
Watch out with data!
When you call or accept an incoming call, you can more or less determine how much it will cost you. As soon as you open an app or download emails, you have no idea how much data that will use.
With our recent price decrease, you will pay about 0,15 euro (excl. VAT) to download a 3 MB photograph. Before 30 April that would have been about 0,60 euro (excl. VAT). For a 1GB video you used to pay about 200 euros (excl. VAT). That is now down to a still considerable 50 euros (excl. VAT).So you should still watch out what you do.More examples on www.proximus.be/bizztravel
In any case, our advise would be to turn off all automatic software updates. And make sure you know which apps run in the background and are liable to use data. Your phone settings allow you to set which apps can use mobile networks to connect.
Also make sure to install the free MyProximus app to track data use and other things. And wifi hotspots or a separate roaming option are good ideas as well.
Another good idea would be to disable your GPS app. These apps often do a first location check via the mobile network, and that takes up data as well.
If you don't want to worry about data, opt for our Daily Travel Surf. For 3,50 euros (excl. VAT) per day, you can use 80 MB of data traffic.
If you have an extended stay abroad you could opt for Travel Surf Europa & Top Destinations or Travel Surf Intense Europa & Top Destinations. These options give your 500 MB and 2,5 GB of data, respectively, for 20 or 75 euro per month, excl. VAT.
https://www.proximus.be/en/id_cb_allabroad/
Be aware
In accordance with European legislation, your internet connection abroad is automatically blocked as soon as your internet bill hits 50 euros (excl. VAT). This prevents unpleasant surprises on your invoice.
Behind lock and key
You wouldn't be the first whose smartphone gets lost or stolen abroad. So make sure to secure your phone with a PIN code so others can't call at your expense. And write down your phone's serial number (IMEI-number) somewhere safe. If you call +32 475 15 60 30 (toll free) we can use that IMEI number to block your phone.
There are a couple of ways to find your phone's IMEI-number (International Mobile Equipment Identity)
Enter the short code *#06# on your phone and press the call button
Take the phone's battery out and find the code inside your phone
Check your phone details in the "Settings" menu
Check your sales slip, invoice or proof of warranty
Have a great trip!
(*) € 0,0910 excl. VAT per minute for the following tariff plans: Exprimo, Mobile Comfort, Mobile Start 5, ProxiFun, Proxitime, Smile, Business Easy, Bizz Fusion, Business Package, ProxiPro, SME_Package, Fuse, Fuse Extended, Mobile Company, Mobile Corporate, Mobile Enterprise, Mobile Group, Smart Enterprise Basic, Smart Enterprise Start, Volume Based Pricing and certain Corporate tariff plans which specific contracts.