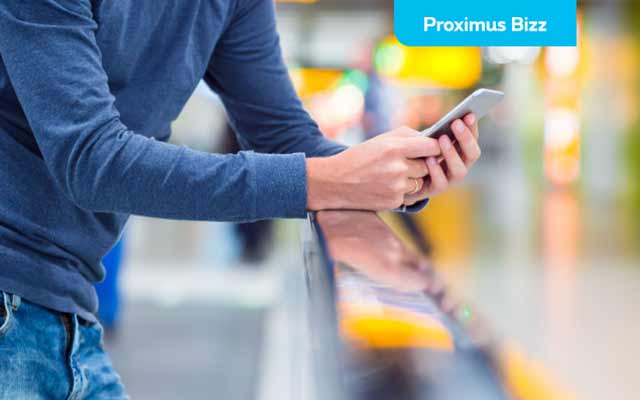 A new EU Directive means you'll be able to call and surf cheaper abroad as from 30th April 2016. We got together with Philippe Bernard, Roaming specialist at Proximus Small Enterprises, to find out what this means for you.
Philippe, what will change for our customers?
"The goal of the European Directive is to allow all consumers to use their smartphones abroad at the same conditions than they have. This involves the complete European Economic Zone (28 EU Member States + Liechtenstein, Iceland and Norway).
We call this new arrangement "Roam Like At Home". Officially, it will be effective as from 15th June 2017, but there is already a transition period starting this 30th April 2016. As from that date, we'll be lowering a whole range of rates with, on average, 75%. (Click here for an overview)."
So the end of roaming in Europa is in sight?
"With regards to the 8 EU Member States, Liechtenstein, Icelande and Norway, yes. We're already lowering our prices considerably."
Why can't we have the full "Roam Like At Home" right now?
"That's primarily a question of infrastructure. Each operator has to get cracking to set up new rates for all private and business customers to make sure everything gets invoiced correctly. For us as well, that's a big job. We can lower the prices, but turning international call bundles into national bundles is a tricky and time-consuming job. That's why the EU is granting us another year to get everything in order."
Can you give us some examples?
"Sure. If you download a 3 MB picture as from 30th April, you'll pay about € 0,15, excl. VAT while the current rate would be € 0,60. One euro will allow you to send about 200 emails with attachment and surf for 2 hours.
But that doesn't mean you should go crazy. If you download a 1 GB video, you'll be just about € 200, excl. VAT, out of pocket right now. After 30th April, that'll still be € 50, excl. VAT."
So nasty surprises are still possible?
"There won't be a hight cost for regular business use such as viewing and sending mails, even with attachment, etc. But if you start streaming videos, that's another thing altogether."
Will we still have separate 'roaming options'.
"Yes, but those have received a makeover as well, to give our customers more ease of use.
Our Daily Travel Passport will be upgraded. As from 30th April you will have 20 call minutes, 20 text messages and 80 MB of mobile data for a price of € 1,65/day (excl. VAT). And of course you only pay on the days you actually use your smartphone.
If you travel more often, Bizz Travel Europe is probably your best option. For € 10/month (excl. VAT) you can call for 200 minutes, send 200 text messages and surf for 200 MB.
If you have a mobile internet subscription and you use more than € 49,59 (excl. VAT) a month while you're abroad, your connection will still be blocked automatically, as per the EU's request.
Another option is to activate the Wifi Hotspots through your MyProximus account. That gives you immediate access to over 17 million Wifi hotspots world wide. Once connected, you can easily use tools such as WhatsApp to download files or send messages with large attachments."
What if I travel to Switzerland?
"Unfortunately Switzerland is not in the zone, so the standard roaming rates will still apply. If you travel there, you're best option is to send "YES" via text message to 8890 to activate your Daily Travel Passport."
And if I leave Europe behind me?
"No changes there either, although we're continually trying to get the best international deals for our customers. For example, the United Arab Emirates will be removed from the "Exception zone" as from 1st of June, so we'll be able to lower prices there as well.
You can always check proximus.be/bizzroaming to check what the best option is for your given destination."
How can I monitor my usage when I'm abroad?
"In Belgium and abroad, you can check your usage at any time via the MyProximus app. For data usage, so if your surf the internet, you always get a free text message when you exceed certain limits. You get a first on at 5 MB, a second one at 10 MB and others at every 10 MB interval.
If you have a Mobile Internet subscription, you get a message when you reach 50% of your data volume and another one at 100%. Each 100% after that, you get another message. Your mobile internet is also still automatically blocked abroad when you exceed a total of € 49,95 excl. VAT, as required as per EU regulations."
Can you share any more tips and tricks?
"Sure. Before you leave, make sure you install MyProximus and activate the Wifi Hotspots. You can also change your settings so you don't automatically synchronise or update your apps while abroad.
At your destination you could close your GPS application. Most of the time, GPS will do a first location check via the available mobile network. If you want tu use or reset your voicemail, call the international number
+32 4 75 15 1230. That way you only pay the national rate for the call. Same thing if you need to contact our customer service: use the international number +32 475 15 6030."
More info about calling and surfing abroad? Check proximus.be/bizzroaming or visit your local Bizz Expert