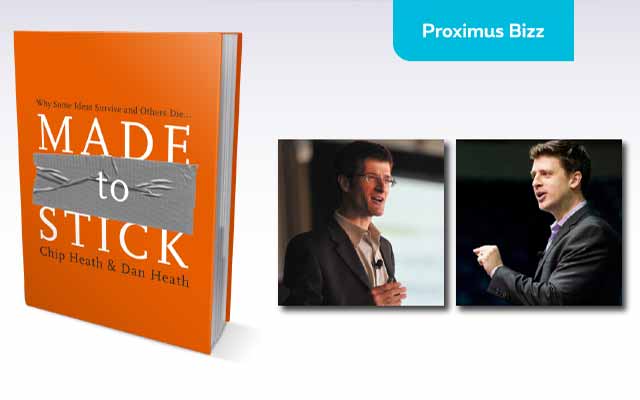 How come you can re-tell some stories effortlessly having heard them just once, while you forget others straight away? Are ideas born interesting, or are they made interesting? And how do you do that, make ideas interesting?
Dan and Chip Heath wrote a witty book on the subject that is a must-read for everyone involved in communication.
About the book
Why are urban legends so eagerly picked up and shared while the annual report of a major company is forgotten five minutes after you've read it? Why do business leaders and entrepreneurs find it so hard to put their vision across well to both customers and their staff? Dan and Chip Heath provide the answer in "Made to Stick".
That answer can be summarized in "SUCCES". With this simple acronym (a good idea in itself), the brothers define exactly what it is that makes ideas 'stick' with people. SUCCES stands for Simple, Unexpected, Concrete, Credible, Emotional and Stories. So make sure your idea is simple but unexpected and offers something concrete, be credible and tell a story with emotion.
The book considers each of these facets in depth, with a lot of attention focusing on the pitfalls that we often tend to deal with in quite the wrong way. "The Curse of Knowledge" for instance. The reason why corporate communication from insiders seems like complete gibberish to so many people.
Each chapter ends with a concrete case study which clearly demonstrates the principles covered.
Why you have to read this
Made to Stick is a first-class manual for everyone who has to put across ideas or convince people. That means everyone who has customers or wants to win over customers, everyone who ever gives a presentation or everyone who has to introduce themselves or their company to others.
The principles listed by the Heath brothers to convey ideas or convictions properly are fairly simple in themselves, but they are developed persuasively and thoroughly. In "Made to Stick", the brothers set out methods and tips that everyone can apply. You don't have to be a genius or an advertising man with your hair full of gel. The dozens of anecdotes, examples, facts and stories makes this an entertaining book that you can read for pleasure.
About the authors
Chip Heath is a professor of Organizational Behavior at Stanford University. He was previously attached to the University of Chicago and Duke University, where he gave courses in international strategy and social entrepreneurship, among other things.
Dan Heath is a professor at Duke University and works as a columnist for Fast Company. As well as "Made to Stick" the Heath brothers have written two other acclaimed management books: "Switch" and "Decisive". "Made to Stick" was named Best Business Book of the Year in 2007 and spent months on the bestseller lists.
More books read for you: The 5 Dysfunctions of a Team, Steal Like An Artist and five concise business books.