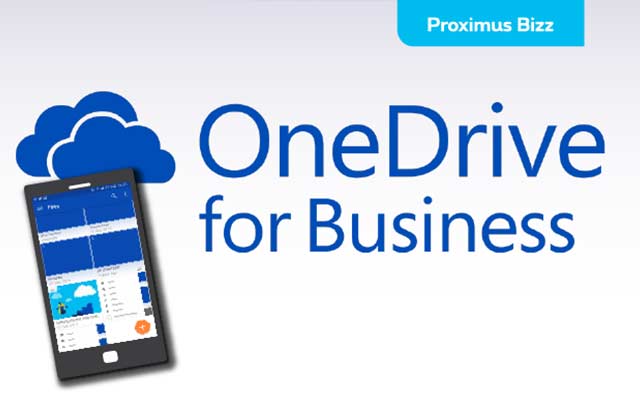 We've gone over this many times on our blog: the cloud really has a lot to offer, also for smartphone users. Documents, photographs and files are securely stored and can easily be shared with others. In this article, we outline some of the basics of using OneDrive on a smartphone.
OneDrive is a simple and handy cloud app from Microsoft that allows you to create your own online 'vault'. You can find the iOS and Android app for free in the respective Apple and Google app stores.
If you don't have a Microsoft account already, you'll need to create one when you use the app for the first time. And of course, you get to choose your own password. New users get 5 GB free storage from Microsoft. But Proximus Bizz Pack-customers get no less than 1 TB (1.000 GB).
Files and folders
When you start OneDrive, iOS will show you a series of icons that let you access your files. Android users will have to swipe to see them. The icons are for "Files", "Pictures", "Recent", "Shared" and "Offline". "Files" is the place where you'll save your documents, photos, sound recordings and so on. Of course you can easily create extra folders to file everything away just the way you like it.
Automatic back-up
"Pictures" gives you immediate access to all the images you make with your smartphone. You can have OneDrive save every picture you take to the cloud automatically. That way, you'll never again delete pictures by accident. You can also opt to make automatic back-ups only when you're connected to a Wi-Fi network, this to avoid back-ups eating up your data volume.
Share and rule
"Recent", as the name suggest, is the place where you'll find all your recent documents. You can easily share your files with customers or colleagues. By mailing a link, for instance, or by sending them a notification so they can directly locate the file in OneDrive. This also gives them the ability to edit the document.
Online and offline
Do you have certain files that you use quite often? Then you can also download them on your phone so you can use them even when you don't have an internet connection available. Touch the parachute icon on your screen and the file will appear in the "Offline" tab.
Fingerprint
Another feature well worth mentioning: you can secure access to your OneDrive with a code. This will guarantee your files are kept safe from prying eyes, even if you should lose your phone or have it stolen. If your smartphone has a fingerprint sensor, then you can use your fingerprint to lock and unlock OneDrive. A quick scan is all it takes.
Want to know more about OneDrive for Business? Click here