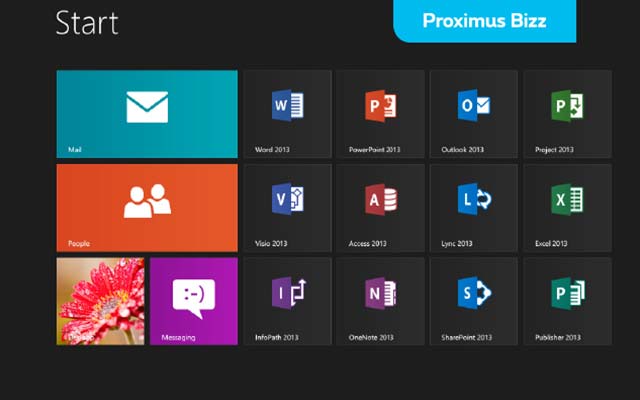 Most probably, you use Office to type documents or create spreadsheets. But Office 365 comes with a range of, often surprising, possibilities. Five things you probably didn't know you could do with Office 365.
1. OneNote offers a simple way to add tasks to your calendar
With OneNote, Office 365 offers a great tool to quickly takes notes and make to do lists or to keep all notes on a customer or project in one location. Just click the note you just typed and you can save it as a task in Outlook. Add a deadline and you'll get a reminder at just the right time.
2. Find images for your presentations, automatically!
PowerPoint is still an integral part of Office 365. But have you heard about "Sway"? Sway is a new presentation tool that, amongst other features, lets you do an automatic search for images to use in your presentations. Image search is taken care off by Microsoft's search engine Bing. Sway's searches are based on the words you type in your presentation. So no further need to scroll through hundreds and hundreds of images to add a colourful touch to your presentation. Sway takes care of that from now on.
3. Turn scribbles into notes
OneNote has another nifty feature. This one allows you to recognise and transform digital scribbles into real notes. And if the conversion isn't perfect, you can always make manual adjustments with the "Lasso" tool. Simply turn scribbles into letters and words and copy/paste them into any other document.
4. Change your mouse icon into a laserpointer
No laserpointer in your pocket while you're giving a PowerPoint presentation? No problem: you can turn your mouse pointer into a laserpen. Press 'CTRL' and click the left mouse button. The arrow pointer will turn into a red dot. Of course, you can change the colour to one of your liking.
5. A self-cleaning mailbox
Chances are that, at the end of any working day, your mailbox will be chock-full of messages you didn't want to see in the first place. That's why Microsoft developed "Clutter"-technology. Clutter make sure your less important emails are neatly separated from the mails you really don't want to miss. The longer you use Clutter, the smarter the software will become and the better it will recognize unwanted or unimportant mail. Of course, the technology comes with an off-switch as well.