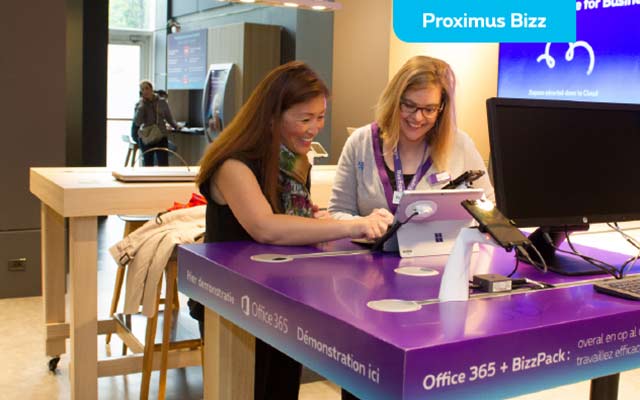 Microsoft Office 365, the 'online' version of the well-known software suite, has been around for six years. In the meantime, no less than 60 million commercial users have signed up. Each month, so Microsoft says, another 50,000 small businesses are added to the total. Why? We'll give you five good reasons.
No need to introduce Microsoft Office. Over 1 billion people use one or other official version of the software. But Office 365 is catching on quite nicely as well. Especially with independents and small businesses. Here are some reasons why:
1. You can use Office on all your devices from now on:
With Office 365, your license is no longer linked to your device but to a person: you! The same license allows you to use the Office 365 apps on up to five differerent devices, be they PC, Mac, tablet or smartphone.
2. Access to your files: always and everywhere:
Here it comes again: the "Cloud"! And rightfully so. With OneDrive for Business (included in Office 365) you store all your files and documents in the cloud. That means you can access them when you want and where you want from any device. On the road, on customer visits, in your business, … everywhere. The only thing you need: a device, a mobile network and Office 365.
If working everywhere and always doesn't take your fancy, OneDrive does have other advantages, because no accident, fire or theft will make off with your documents any longer.
3. True collaboration!
Office 365 offers you a range of ways to cooperate: with colleagues, partners, customers or suppliers,… You decide who has access. This way, al your companions have access to the most recent and relevant documents.
Moving one step further: you can also collaborate "live" on a document with someone in a completely different location. And you can even talk to each other via Skype while you're working on that mutual document.
4. Be professional
It happens less and less, but they're still around: businesses that make do with a Hotmail- or Gmail email address. We fully understand, but it still a touch less professional. Especially in these times where domain names and their email addresses are dirt cheap. Dirt cheap? Free even, because if you get our Office 365 in a Bizz Pack, you get your own domain name (ex.: www.smithscarshop.be) and a professional email address thrown in!
5. Focus on what's important
We're having a wild guess here, but we assume you'd rather take care of your customers, products and people than your server management, update installation, data protection, etc. Office 365 does that for you. It's online software, so you no longer need to buy and maintain expensive servers. And you always have the latest versions of Office 365 at your fingertips, automatically!
Bonus:
There truly are (many) more than five reasons why Microsoft Office 365 is a great deal. And it only gets better if you get Office 365 through Proximus.
- Support:
Office 365 customers get 24/7 support from our own Proximus helpdesk.
- Network:
Online software is great if you also have a great network. Fortunately, our network is still in prime condition.
- Price:
For 10 (ten !!!) euros per month per user you get Office 365 Business Premium with:
Microsoft Exchange Online
Microsoft Outlook
Microsoft Word
Microsoft Excel
Microsoft Powerpoint
Microsoft OneNote
Microsoft Publisher
Microsoft OneDrive for Business with 1TB storage
Microsoft Skype for Business
24/7 Proximus support
Your own, professional domain name and email address with 50GB storage if you combine Office 365 with a Bizz Pack.

Want to know more about Microsoft Office 365? Click here!