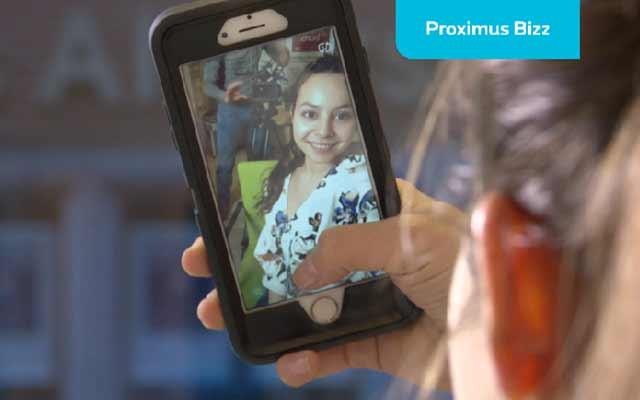 A transient craze for narcissistic people? Or an essential element in your marketing strategy?
For Anissa Bougrea, a young millennial for whom the smartphone is as normal as running water, the selfie clearly belongs in the second category.
Anissa (22) works as an online media monitor and content creator at socialemediaburo.be, a Tielts-based company that advises public institutions and private businesses on their social media strategy. And there is still a lot of work to be done, she says.
"If we compare ourselves with the Netherlands, for instance, you see that we are a couple of years behind. Social media are far more part of daily life there. It's perfectly normal to contact the police via Whatsapp or for the commune to be active on Instagram."
People like to see other people working
All in all, the chance of seeing a Belgian mayor or a small self-employed worker with a selfie on Facebook or Instagram is still small. And that's a shame, Bougrea says. Despite all the criticism and prejudices about selfies ("narcissists turning the spotlight on themselves"), there are also advantages.
"Of course, you have to take things further than just selfies," Bougrea explains. "But using social media creates a powerful link between the company and its customers. You give your customers the chance to take a look behind the scenes, to get to know the staff, to see how things are done. And it works.
People like to see other people working. It's in our nature (laughs). And – which is important – the feeling easily moves across into the offline world. Potential customers will think about you more quickly, even if they are not sitting at their computer or using their smartphone."
Taking the first step
Bougrea gives a small insurance office that she advises as an example. "At first, the manager was a bit ill at ease with it, but you just have to take the first step. Now he regularly posts short videos and selfies from his office, chats with customers, introduces his staff, wishes his followers a nice weekend, etc. It's not that he is trying to sell products, but he does enter into a relationship with his followers."
Another example is a bakery that Bougrea knows. The baker makes short films in the workshop, shows new products or posts pictures of the breakfast baskets ready to be taken out. "As long as it stays personal and authentic," says the social media expert. "And there is regularly a selfie, too. Or a photo with satisfied customers. Selfies have more chance of getting a 'Like' as well."
Time and light
Another advantage of this approach: it is not hugely expensive. "That's right," says Bougrea, "all you need is a mobile phone with a good camera and a little imagination. Make sure that there is enough light to take a good photo and that the room where you take it looks decent."
The thing people sometimes underestimate is that you have to maintain it properly. "That's true. You need to be aware of that: if you just post something once a month, it won't be much use. Three posts per week with a selfie from time to time is a good rhythm, I find.
And then you have to allow at least a year to build it up and gather fans and followers. Another important point: your expectations have to be realistic. This will not triple your turnover. But you do become top-of-mind with your customers and that is a good way of standing out from your competitors."
Walk the talk
Bougrea herself is active on social media, of course, including the occasional selfie. "Walk the talk is our motto," she laughs. "If we're going to advise a company that they should post more photos and films, then of course that's only credible if we do so ourselves."
Want to know more about selfies? Check these selfie facts.
Totally crazy about selfies? With Bizz All-in you can use your favorite selfie app completely free!