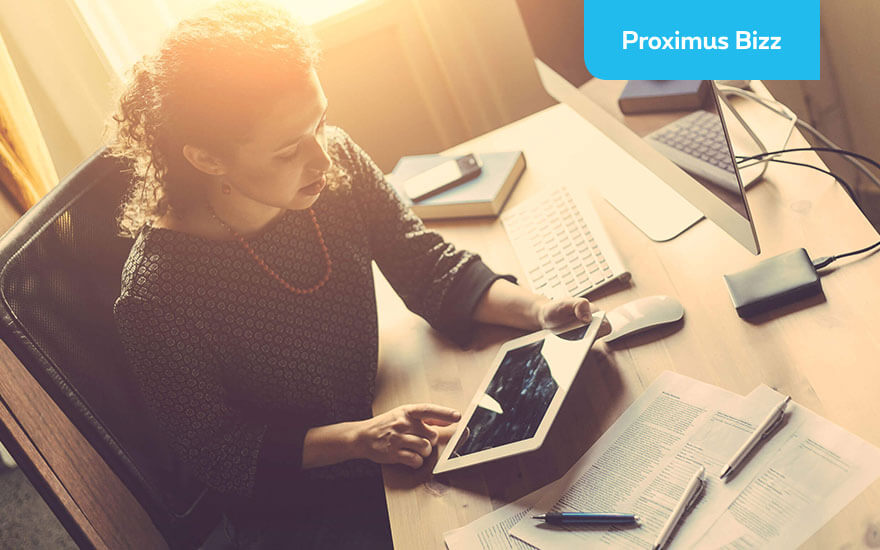 Companies with a modern mindset often offer their employees a maximum of authonomy. Mobile working is the key, technology is the enabler and responsibility is the watchword. That results in increased motivation and productivity. But how do you get started?
Employees that are productive anytime and anywhere? Music to the ears of most business owners. And a dream come true for most workers: no more traffic congestion, a better balance between work and private life… Flexible working is always a combination of three essential components: ICT, HR and Facilities.
ICT-solutions
ICT-solutions ensure that your people are reachable everywhere and can exchange information with the office. The guarantee a permanent access to the company network, the required software and the necessary data. Practically speaking, there is not that much to implemeting this from a technology point of view. What you need is a wireless connection and a laptop, tablet or smartphone. By (partially) transferring your ICT infrastructure to the cloud, you can make all of your tools and data available to every employee. And telecom solutions that allow you to switch fixed company calls to workers' mobile phones is quite standard these days.
The right facilities
Aside from the technological aspect, providing the right facilities is key as well. Such as flexdesks: space saving, multifunctional desks that can be used by anyone in search of a workspace. Also try to have enough spaces for small meetings and try to provide quiet areas where people can work without too much distraction.
Make sure to keep in mind that you'll probably need less office space when some of your employees are working from home.
It stands to reason that you also need to put some clear guidelines into place so everyone can work comfortably and responsibly.
BYOD
A very important aspect of The New Way of Working is BYOD (Brying Your Own Device): employees bring their own device (smartphone, laptop or tablet) to use at the office. As a company, you can propose your workers a choice of devices and offer to pay at least part of the purchase price and software subscriptions.
Company culture
Another aspect of The New Way of Working is the need for a new company culture. A culture that fosters a sense of responsibility, trust, involvement and autonomy. It wouldn't be a bad idea to start off with some introductory workshops so everyone within your organisation gets a feel for what is expected from her or him. Set up a roadmap and involve your workers in the implementation.
Advantages
Market research shows that 99% of employees is satisfied with teleworking and home office working. The advantages of the New Way of Working are impressive: more productivity and greater satisfaction with your employees, time gains, less illness and absences, reduced fixed costs, satisfied customers.
And Proximus
Want to know how we can help you with your New Way of Working? Make an appointment with your Bizz Expert and find out more about our Cloud, mobile internet, Bizz Switch and many more great tools.