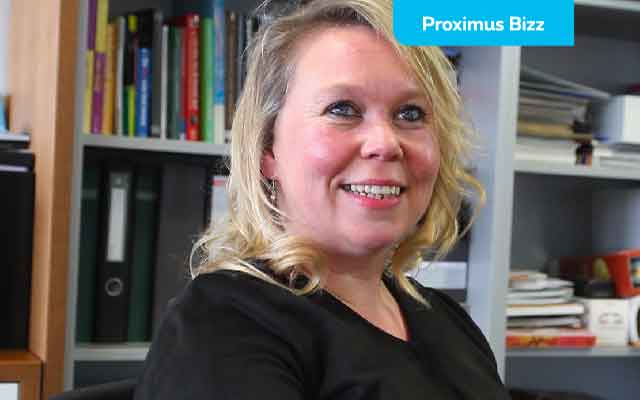 Businesswoman Nathalie Sintobin is strong in e-commerce.
As descendant of a family of entrepreneurs, it was written in the stars that Nathalie Sintobin would one day found her own company... and succeed. In 2015 Unizo (Union of independent entrepreneurs in Flanders and Brussels) and Markant named her 'Businesswoman of the Year'. She has never found the glass ceiling much of a nuisance, she says, but of course, that does not mean there are no differences between male and female managers.
Frucon2, that's the name of Nathalie Sintobin's company in Ardooie. Frucon2 ships 'gift.be' online gift packages, but also takes care of the online shop management for brands such as Samsonite, KitchenAid and Godiva.
"I come from a third generation of fruit and vegetable traders," Nathalie explains. "It was more or less inevitable that I would become self-employed. All my life I've never known anything else (laughs). My father did the markets, and that was a great learning experience. Positioning your products, dealing with the competition, defining your target group ... all the seeds were sown there."
Watch this video with FR subtitles
A brief excursion into the events business introduced Nathalie to the market of professional and promotional gifts. "That's how I started selling fruit and gift hampers through a catalogue," she says. With the overconfidence of youth (laughs). After a while, I also ran a store. It was open until 6.00 pm and in the evenings I went round delivering orders as far as Luxembourg.
It soon became clear that this was not the right business model: logistically it was difficult, there were no advantages of scale, everything had to be pre-financed ... there was little growth in the short term but the creativity was there."
From Coca-Cola New York to Europe
In the early 2000s, Nathalie heard via her brother and her American sister-in-law how the Internet was turning the retail landscape upside down. "It soon became clear that we had to jump on board this digital train. Here in Europe, there was still nothing like it, so I went to trade fairs in the US, including New York and Las Vegas. Often I was the only European.
And that's how we came to deliver all the gifts from the Coca-Cola site in New York to Coca-Cola Europe. And when you gain a customer like that, then of course word gets around (laughs)."
Those pioneering years weren't easy, Nathalie remembers. She had to build the technology to manage the back-end and stock herself, because it did not yet exist. However, this international focus still meant that just 7% of the turnover was recorded in Belgium.
Freedom and responsibility
In terms of management style, Nathalie likes to use a level structure: "I believe in management by example. It's really about constant coaching and giving people a certain mindset, in a healthy mix of freedom and responsibility. And that attracts a certain type of person. We work in a very changeable business, so the chance that you will spend years doing exactly the same thing here isn't that great."
Running a large SME as a woman is certainly challenging, but the glass ceiling has never bothered Nathalie. "I've never experienced that, no. And in my circle of friends there are several other women who run a company and it doesn't seem to be an issue for them, either. Of course, there are differences in the way men and women manage.
I think women are more able to empathize with their staff and they go for a soft approach. That does not mean that you necessarily have to become close friends with your staff, certainly not, but the ability to empathize is there. I have it too. And it works well, I find, because you get a lot of commitment in return."