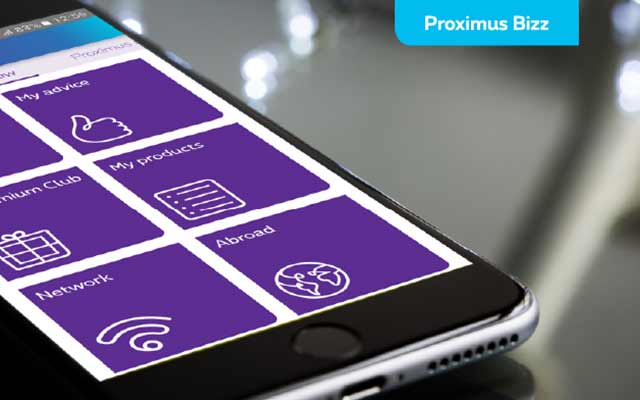 MyProximus tells you exactly what you spend on telecom and allows you to easily switch options on or off. And not just for you, but for your team as well. A few short tips to show you why MyProximus is a great tool for modern entrepreneurs…
Did you or didn't you switch your international data bundle off? How much data have you used this month? What services have you activated on ProximusTV? And that Proximus invoice from two months back, how much was that exactly?
As an entrepreneur, you have more on your mind than telecom, so a tool that shows you exactly where you stand with Proximus is really great to have.
MyProximus takes care of all that, and much more. Have a look
Always up to date
Surf to MyProximus online, log in and you will immediately have a complete overview of all your Proximus products and services. Did you get extra subscriptions for your team? Those will be listed as well. Looking for a particular invoice? You can easily view and download all invoices (in PDF format) of the last six months.
What's more: MyProximus is also available as a handy app (Apple, Android and Windows)
where every user can follow up on his own usage. Ideal for your employees.
Options on or off
Click on your product to find a detailed overview for all of your subscriptions: data use, available and active options, international data bundles, number recognition, limits on outgoing calls, etc. Adding or removing an option can be done in a single click. And it works just as well for your TV subscription, your fixed internet, your FON subscription, you fixed phone, etc.
Does the network work?
It happens from time to time: technical problems on the netwerk. With MyProximus you can immediately check our network status. Great to determine when you'll be back in business. And a good tool to keep both employees and customers up to date.
A small present
A final tip? Via the MyProximus website you can also check how many Bizz Club points you've saved. And you can trade them in for nice gifts as well.
MyProximus is really up your alley!
Register online or download the app (Apple, Android and Windows) today.
Een Bizz Expert in your app
Not sure that your current subscription is still the right one? Or do you have other pertinent questions about our products or services? We have 400 Bizz Experts standing by to help you get the right answers. Via the MyProximus app you can easily contact your Bizz Expert for free, tailored advice.