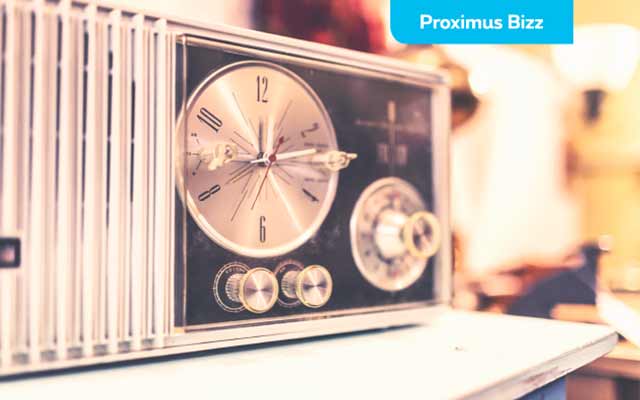 Do you play music in your shop? Or in the company lobby? Or do you serve food and drinks, accompanied by music? Then you have to pay royalties to the authors, composers, artists and producers. So how much do you need to pay, and to whom? And what else should you take care of?
This article will be about music that is played in public spaces, accessible to the wider public. Your shop, for instance, or a showroom or reception area. But not your workshop or production area. The ways of calculating rates for those are significantly different and are explained in our previous article.
So who should you pay to?
Authors, composers and publishers are all entitled to royalties if you play their music. Those royalties are collected by Sabam. Aside from that, there is also something called 'fair compensation' which has to be paid out to artists and producers. Fair compensation fees are collected by rights management companies Playright (for artists) and Simim (for producers). Honebel manages this specifically for the food & beverage industry.
As a rule, Honebel fees are about a third cheaper than Sabam's.
A rate for every business
How much you have to pay depends on a range of parameters. A first important one is the nature of your business. On Sabam's website, you can check which fee goes with your type of enterprise. At the bottom of the page you'll find a comprehensive listing of the various fees for different businesses and organisations. Fee 101, for instance, which is applicable for restaurants, cafés, snackbars, … or fee 121 for waiting areas, lounge areas, hallways and elevators.
How much do you need to pay?
Within every tariff, there are a number of questions that determine what your fee will be. The size of your business, for instance. Is it just music or do you play TV as well? Do you charge an entrance fee? Will you pay per quarter, semester or annually? To give you an idea: a restaurant would fall under tariff 101 and would pay about 400 euros a year, excl. VAT, if paid on an annual basis. That's if the business is not bigger than 100 square metres, has no dance floor and only has music. If you show TV as well, you should add 100 euros a year. Adding a dance floor will cost about 50 euros extra. And there's another surtax if you're occupying more than 100 square meters.
Streaming music and music services
If you already have a subscription for Spotify, Deezer, Google Play or YouTube, you should know that these are private subscriptions that don't allow you to play music publicly. Certain music providers offer specific services for shops and food&beverage. Tunify, Xmusix and DJ-Matic, for instance. They'll offer music through an online application or music computer. If you have a license from them and pay the fair compensation at Sabam, you should have no worries about playing their music in your business.
Parties, events, performances, shows, …
If you plan to have one of the above, you'll have to request a permit for a temporary activity. You can apply for an e-license on Sabam's web site.
Businesses that have multiple events can opt for a yearly fee. If you plan to have a live show, you need to pay the royalties, but not the fair compensation fee. But if you have a DJ playing before or after the show, then you need to pay both.
Calculate online
If you'd like to check what royalties would cost you, you can use the online simulator Sabam has put online. This will let you apply for the necessary licenses as well. This way you can take care of all the paperwork and have no more worries when you spin a record or show TV in your businesses' public spaces. You can find the tool on sabam.be
Need more info about fair compensation? Check here (FR or NL only)