5 smart mobility tips that help your business
Be inspired  by Proximus Bizz team  19/09/2016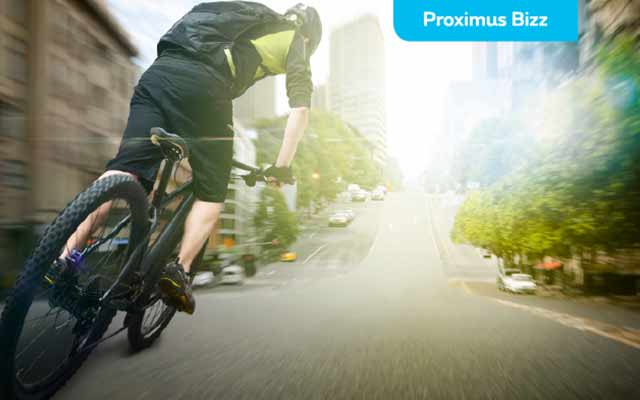 Despite all the efforts and initiatives taken on every level, mobility continues to grow as a problem. We experience this every day as traffic jams grow and parking space is increasingly hard to find. The Mobility Week is the perfect moment to check what you can do about mobility. Not just to be "greener", but also to make sure your business continues to run smoothly.
(Fast) Green parcels
Do you sometimes need to have parcels delivered in the city centre? More and more courrier services offer eco-friendly alternatives. Bubble Post is one of a growing number of ecological courriers. Present in 14 Belgian cities, they deliver the majority of their packages by bike. Green? Certainly. But also very fast, because they hardly ever get stuck in traffic. So your packages often get delivered faster than usual. They even have iceboxes so they can also carry perishable goods. And if they do need another means of transport, for practical reasons, they make sure their vans run on electricity or natural gas.
Electric vehicles with a fiscal bonus
Do you often need to go short(er) distances by car or van? Why not consider an electric vehicle? More and more types are becoming available, even from the bigger car brands, and battery technology is continually improving. An operating range of several hundreds of kilometers is no longer the exception. And of course you can also find electric vans nowadays. Extra bonus: the government(s) subsidize electric road transport with considerable fiscal discounts.
Carpoolen or carsharing
Do you have a colleague who happens to live closeby? Why not carpool? You can arrange who drives which car when. That saves a lot of fuel and carbon dioxide. You can even share rides across companies. On carpool.be, for example, anyone can look for a suitable carpoolpartner. And carsharing is possible via services such as Cambio.be, ZipCar or with the DriveNow-app.
Railease
Combining your leased car with rail tickets is another great idea. Just for that purpose, NMBS/SNCB came up with Railease. This lets you combine the freedom of having your own company car with the comforts of rail travel. You can selects 20, 40 or 60 rail travel days that you (or your co-workers) can plan as you like.
Park and buy
Do your customers still come by car? Perhaps you could also help them out by offering free parking tickets (free with any purchase, for instance). Some cities have a specific policy for this. To keep the city centre free from traffic congestion, drivers receive a free public transport ticket when they park at the edge of the city centre. Kortrijk is one of multiple cities in Belgium with such a policy.
---
Share your opinion about news
Do you want to share your opinion or comment?
To comment login to Facebook.