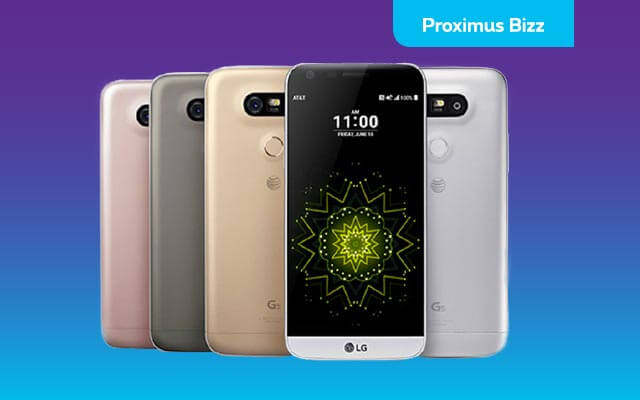 LG knows all about taking risks. Whereas ever more smartphones look like exact clones, this Korean outfit dares to think and do differently. Sometime that works, sometimes it doesn't. But with the new G5, LG seems to offer us a glimpse of the smartphone of the future. Coupled with great performance, the G5 makes for a strong alternative for the usual smartphones.
Waiting for a new release by Korean smartphone giant LG is always exiting. Because they always manage to surprise everyone. And the new LG G5 is no different. A short overview:
Outside
Body
The LG G5 looks completely different than its precedessor, the G4, and that's because LG have finally ditched the round, plastic design for something more solid. The G5 now sports an all-aluminum body, the way any modern smartphone should, and is almost fully flat. Almost… because LG still rounded the edges on the top and bottom. Overall, the G5 fits comfortably in your hand and slips neatly into any pocket. In size (148,4 x 73,9 x 7,7 mm) it's quite comparable to the Samsung Galaxy S7 Edge. Altogether, the device weighs in at 159g but feels lighter.
There are a few other notable changes to the outside. LG for a long time was the only believer in putting volume buttons at the rear of the device, and fortunately they did away with that idea. The buttons now fit snugly on the left hand side, as with most other smartphones.
The on/off button is still on the rear. That's unfortunate because the button also doubles as a fingerprint scanner (to activate the device, for instance). The scanner works great, but if the device sits on your desk or table, you need to pick it up every time if you want to activate it.
Display
Front-side, you have a 5,3" display with a resolution of 554 ppi. Nothing to be unsatisfied about. The display, moreover, is 'always on', wich means that minimal information such as date, time and app notifications are always visible. That's more of a benefit than you might realise, especially if you check your phone often. LG says users do this about 150 times a day. And it's no big drain on your battery: only 0,8% per hour. Over a full day, that's still 19,2%, but the trade-off is that you don't have to activate/deactivate your device every time you want to check it.
LG Friends
The LG G5 has brought some friends along to the party. The G5, after all, is a 'modular' phone, which means that it has a nifty system to plug in other devices, the so-called 'LG Friends'. For the moment there's only an extra camera module (Cam Plus) and Hi-Fi Plus. Both rather on the expensive side. But the idea looks sound and promising.
You can also couple the LG 360 VR Headset to shoot and view 360° video.
All of these extra modules are controlled by the LG Friends app.

Inside

Battery
The G5 is one of the few remaining modern devices with a swappable battery. That's something you don't see very often anymore, unfortunately. Just as unfortunate is the fact that the battery is the only true weakness of this G5. It runs up to a mere 2800mAh, which is really not enough for a good performance on a smartphone. For a full day's business use, you'll struggle to make it on one battery charge. So carrying your charger has to become second nature.
A workaround is the Cam Plus module because that has an integrated 1200mAh battery which should give an extra boost to make it through the day (and perhaps a bit more).
On top of that, Cam Plus gives you a couple of nifty extra controls for the device's cameras.
Performance
The LG G5 runs Android Marshmallow 6.0 on a Quad core Qualcomm Snapdragon 820 processor and 4GB RAM. And that makes for some nice results. Even when using bigger apps intensively, the G5 won't hang or freeze and you can still work and navigate fluently. Very nice indeed! Add the fact that LG also provides us with an extra microSD slot and you can easily expand the standard 32GB storage as you please. Another big plus, in our opinion.
Camera
On to the camera's, and the LG G5 has no less than three: the usual 8MP selfiecamera at the front, a 16MP camera at the back and, also at the back, a 8MP wide lense camera. And that is just great. The 16MP delivers the goods with crisp images and nice colours and lighting. The 8MP performs a bit less, but the wide angle lense takes pictures over a 135° angle, which is more than a normal person can see. So no more messing about with panorama photos, but great, wide angle shots with one push of the button.
Our opinion
In a market where more and more phones looks just like the next one, LG always dares to be different. They don't always get there, just look at the all-rounded, leather-backed G4. But the G5's modular approach is a challenging step ahead. A good idea that seems well-implemented. Now we only have to wait and see which other modules hit the market to feed this approach.
Great marks for performance and looks as well. The G5 delivers and is a great alternative for the usual, popular smartphones. The camera's are more than capable of delivering great shots and the double camera's and wide-angle lens on the back are a great find.
Remains just that one downside, battery life. But if you don't mind recharging the G5 during the day, that doesn't have to be a problem.
In short: a great device with excellent performance at an acceptable price!

Pros
Great design
Powerful device with solid performance
Expandable storage via microSD card
Wide angle camera at the back
Swappable battery
Cons

Want to find out more about the LG G5? Click here.