Always close, even abroad
Published on 01/12/2019 in Service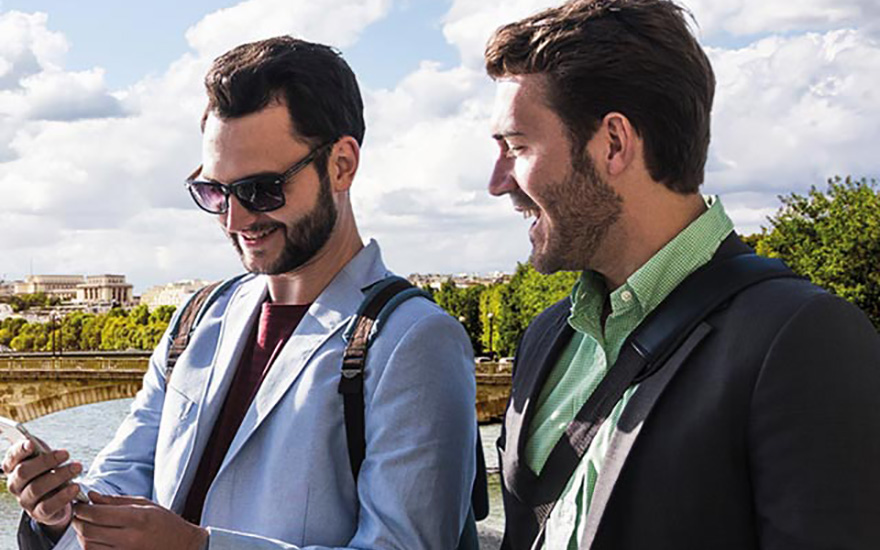 Bye bye roaming within the EU! Surf, call and text anywhere in the EU, just like at home. And you won't have to pay anything extra!
Roaming and international rates, what does it mean?
When is roaming free of charge?
Roaming is free outside Belgium for communications within the EU1. Do you want to…
call a German number while you're in Italy?
use your data while you're in sunny Spain?
send a text to a colleague in Belgium while you're in Austria?
These communications are simply deducted from your domestic plan2.
When do you have to pay for roaming?
You must pay for roaming everywhere outside the EU. Don't forget that this is also the case for some European countries, such as Switzerland, Andorra and Monaco. Remember this whenever you're travelling through Switzerland on your way to Italy… .
What is an international communication?
We speak of international communications when you call or send a text from Belgium to a foreign country, whether within the EU or outside. International rates will then apply.
Roaming from A to Z (.pdf in French)
Free roaming in the EU: Åland Islands (Finland), Austria, Bulgaria, Croatia, Cyprus, Czech Republic, Denmark, Estonia, Finland, France, French Guyana, Germany, Gibraltar, Greece, Guadeloupe (French Antilles), Hungary, Ireland, Italy, Latvia, Lithuania, Luxembourg, Malta, Martinique (French Antilles), Netherlands, Poland, Portugal, Réunion, Romania, Saint-Barthélemy (French Antilles), Saint Martin (French Antilles), Slovakia, Slovenia, Spain, Sweden, and the United Kingdom + Iceland, Liechtenstein, and Norway. Excluding special and premium numbers (voting, 0800, 0900, etc.)
Out-of-bundle national rate when you exceed your bundle.
What's included in your price plan?
Can't remember what's included? No problem! Use our easy tool and we'll give you a crystal clear explanation of the amount of mobile data, minutes and texts included in your bundle. You'll know exactly where you stand.
Did you know?
With a Bizz Mobile subscription you get unlimited use of your favourite app (Facebook, Instagram, Twitter, WhatsApp…), just like in Belgium.
Do you surf more than most?
Are you worried that you won't have enough data available while you're on a business trip? No problem, we've got you covered!
Travelling inside the EU
Even if you're a heavy data user, you don't have to pay a fortune. Make sure you take enough gigabytes with you, for example with Bizz Mobile M or L. Are you scared this will still not be enough? There's always an option to buy additional data for the same price as in Belgium. With MyProximus you can have for example 500MB additional data for just €4.13 (VAT excluded).
Travelling outside the EU
Are you going a bit further afield? In addition to our standard rates, we still have the best deals for you per country. With the different travel passports, you can choose an option to call, text and surf cheaper abroad for a few days, a week, a month or a longer time.
A few more handy tips before you go…
Want to dial a Belgian number when abroad? Dial +32 before the number and remove the first 0 from the area code. It's that simple!
Want to listen to your voicemail abroad? Call +32 475 15 1230. This will be charged at the same rate as a call to Belgium. Remember: unheard messages are kept for two weeks.
Do you have a question for us when you're abroad? No problem, just give us a call on +32 475 15 6000. We'll be happy to help. And it's free, even from outside Belgium.
Any more questions?
Take a look on our FAQ page
Katleen
Being efficient, that's my 'thing'. Expect concrete tips, apps and services that will make it easy for you!
Other articles of Katleen
Questions about our offers?
An advisor is at your service