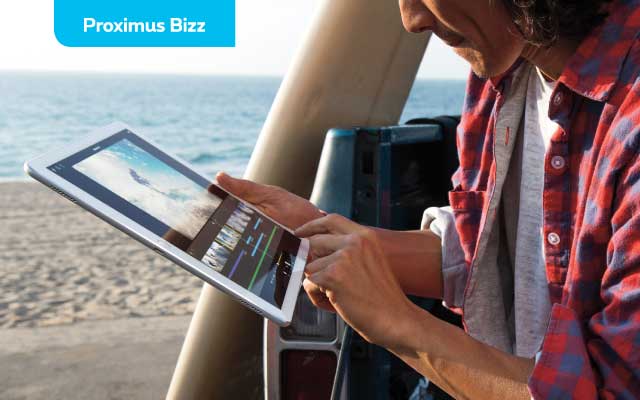 Lots of independants have a tablet they take anywhere with them. But because there are still some limitations – no physical keyboard and small screens – they often also lug around with a laptop. Apple's iPad Pro might just be the answer to that problem. This big tablet tackles all the limitations of the smaller ones, which makes it a great tool for entrepreneurs.
The iPad Pro comes with a razor-sharp 12.9 inch Retina screen. That is comparable to the average laptop screen. That's just as well, because the focus of the lightweight (713 grams!) tablet is on productivity. Mailing, writing or editing documents, surfing, showing referenced images to customers… this stylish tablet can do it all. And even with intensive use, the battery will last throughout the day.
Digital pencil and keyboard
Contrary to the Apple Watch and iPhone 6s, the iPad Pro does not have a 3D Touchscreen. The screen does not recognise the difference between a soft or hard touch. The optional Apple Pencil, on the other hand is pressure sensitive. This advanced stylus allows you to make minute adjustments on images or create handwritten notes. Apple has also made sure to come up with a separate keyboard that clicks to the iPad Pro with magnets. The so-called Smart Keyboard is very thin and comes with a protective cover.
Special apps
iOS 9, the most recent of Apple's operating systems, is found on the iPad Pro as well. To make life for entrepreneurs easier, the tablet comes with a range of handy apps. More, and more advanced, apps for the iPad Pro can be found on the App Store. One of those is Microsoft's Office365, which has been optimised for the iPad Pro and lets your trusted office software. Same goes for other popular software such as Autodesk AutoCAD or Adobe Photoshop.
Not all critics have been won over by the big iPad, and many doubt its potential. But we think the iPad Pro could be a winner on the market for business tablets. It could even be the gamechanger that drives the traditional laptop market into decline.