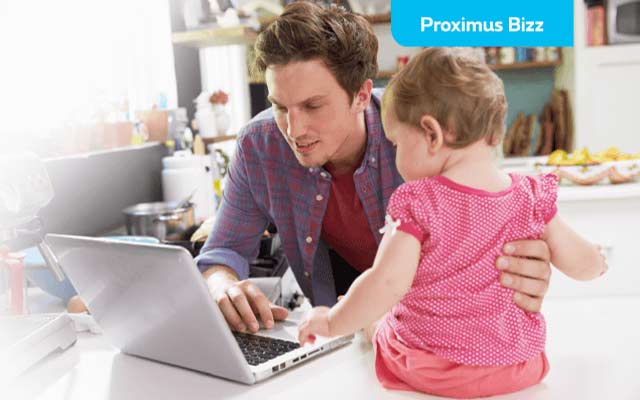 Being your own boss has its advantages. Like planning your own schedule. But that doesn't mean you can work less. Running a business or working as a freelancer is not something you do in between other things. You are independent 24 hours a day. So cherish the little free time you have as dad and partner!
Plan together
There is always a mail that needs to be sent or some paperwork to do for your business, but family time doesn't just happen like that. Planning is key! Try to get together at the start of each week to compare plannings and spot when you can take some time out to do family stuff: a trip to the zoo, a movie night with your significant other… Or simple household chores such as family grocery shopping. That's a fine way to make necessary chores a bit more fun for everyone.
Get an agenda going
Don't just use your agenda to plan professional activities but also to block fun moments. Because if you don't, you'll always be tempted to quickly grab that next file or assignment. If you plan a week ahead, it's important to check which things take top priority and which are less urgent. This is especially difficult for starters. Learn to separate work and private life if you don't want to end up working 24 hours a day. So set priorities, because they'll help you make choices.
To do list
Another good idea is to plan separate days by using a to do list. Crossing off the less enjoyable tasks and looking ahead to more fun moments can be a great motivator. It also allows you to keep a good overview on your business and private affairs. But make sure not to fill the list to the brim. There are always unforeseen circumstances that wreak havoc on your timings: one of the children takes ill or there is an emergency at work or at home… So leave some space in your agenda to deal with the ad hoc stuff.
Carry your weight
Make sure you get your hands dirty around the house as well. A rotation where you contribute to the countless chores will be much appreciated. And why not relax and take it in stride: cleaning, gardening and doing the dishes are unavoidable, so why not go at it with a smile, especially if you can get the whole family involved.
No screen
So you've gone ahead and planned something fun for the whole family? Then make sure you're completely into it. Switch off your smartphone and leave your email and text messages be for the moment: you are not working right now! It might seem uncomfortable to disconnect completely, but once you've done it a couple of times, it will feel great and you (and your family) will quickly see the advantages.
Biking on a Sunday
Try not to put too much pressure on yourself in your work. A healthy dose of stress won't harm, but too much stress will only build up frustrations. And it's all too easy to take it out on others at home. A bit of sports or relaxation can do wonders. So don't cancel the Sunday bike-ride or the game of football with your mates. And the obligatory drink (just the one) afterwards won't harm anyone either.
Doors closed
A final tip: office is for working, home is for family. Don't take your work home with you unless your really need to and it doesn't get to be a habit. As an independent, the line between your work and private life is fine enough as it is without you bringing work to the kitchen table. So: if you do work at home, make sure you have a dedicated space to do it in. Aside from practical purposes, it will also allow you to – literally – close the door on your work!