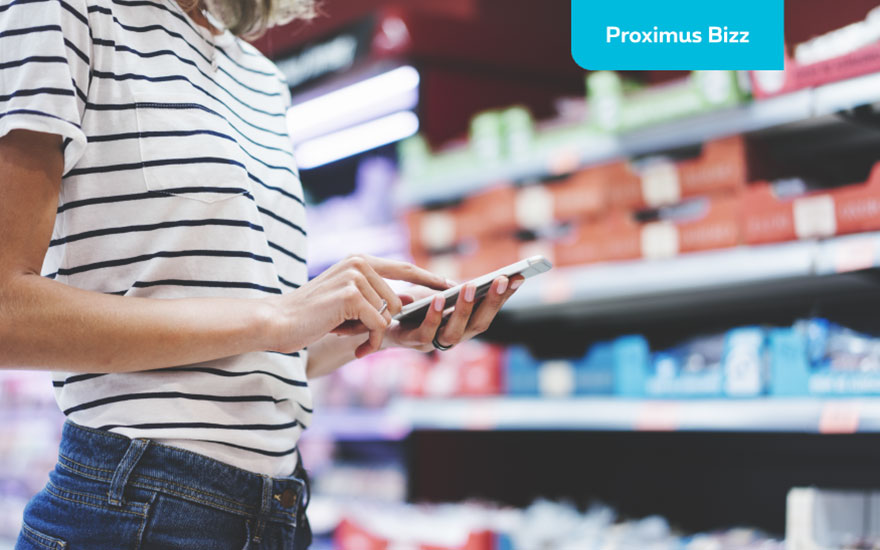 Colruyt, MediaMarkt, Bel&Bo … big chain stores are convinced of the benefits of Wi-Fi in the store. A survey conducted by Deloitte shows that customers who use a mobile phone while shopping buy 20% more. But small retailers and storekeepers can benefit, too.
Collecting customer data
Wi-Fi can help you find out more about your customers. You do that not just by displaying your Wi-Fi password. But by having your customers log in. Technically, it's like this: a pop-up appears on their screen when they enter the shop. Here your customers enter their gender, e-mail address and telephone number, for instance, before they gain access to your network. These details can be useful for future marketing campaigns. Think about sending newsletters.
Link with your webshop
Did you know that people who search for a product on their smartphone are more likely to actually buy it? With Wi-Fi you encourage the purchasing process. Have you got a webshop? If so, make sure that customers can check this easily on their device. There they will see the sizes and colors that you have in stock. Think about touch screens, as well, to draw attention to your e-shop. Not everyone has a smartphone or is prepared to disclose their details to surf in your store.
Reward loyal customers
Modern Wi-Fi systems recognize customers who have already been to you. This enables you to reward loyal customers. On their tenth visit, send them a discount coupon by e-mail that they can use immediately. A great many customers will appreciate the gesture.
Share the store experience on social media
We live in an age of social media and connected consumers. Wi-Fi in your store gives your customers the chance to share their store experience, photos and reviews immediately. For example via Instagram, Twitter or Facebook.
Paying digitally
Thanks to Wi-Fi, your customers can easily access new digital payment options. Bancontact app or Payconiq, for instance. Customers do not need to use their mobile data subscription for this.
Safety first
One thing you certainly can't afford to lose sight of when you install Wi-Fi in your business is cyber security. Keep the Wi-Fi network that your customers use totally separate from your own internal network. And be sure that everything is properly protected by well-chosen passwords.