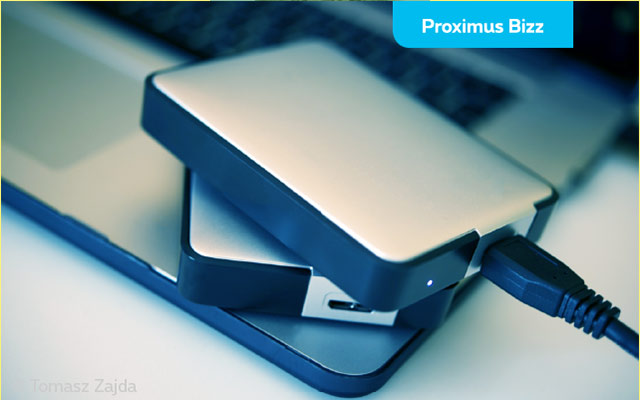 A lot of businesses put off making data backups because they find the process time-consuming or complicated.
In reality, it is neither. A couple of mouseclicks suffice to send all of your important data to an external hard drive or the cloud and to make sure your company data is forever safe and available.

Contracts, invoices and supplier emails; but also music and holiday movies and photo's you've probably stored nowhere else… It's only after we lose them that we realise just how important the data is that we store on our computers every day. Yet making regular backups is really not that hard. This is how you get started.
The Cloud
The easiest and most advanced method to safely store your files is by using a cloud service such as OneDrive for Business. You can easily regard this as your safe deposit box on the internet where you keep al of your documents and other files safe. Other examples are Dropbox and Google Drive, but they offer only limited space which might not be sufficient to back up all of your files.
The biggest advantage of the cloud is that you're not only able to view and edit documents from your own computer, but also from other computers, tablets or laptops at your office or on the road. This comes in very handy if you're waiting to do a presentation for a customer and need to add a new finishing touch. This feature of the could also makes it very easy to collaborate on documents and to share documents with colleagues, customers or partners. No more messing about with exchanging documents via email or USB-sticks. And you can also store older version of your documents so you always have a neat chronology.
Let us show you how to synchronise files, in this case on a PC with Windows 10, automatically with OneDrive.
OneDrive is listed by default in Windows Explorer. Open it and create a new folder which you could name "Backup", for example. As soon as you copy or drag files into this folder, they are automatically synchronised with OneDrive online. So if ever your hard drive gives up, you still have a copy of all your files online. And, as mentioned before, it is incredibly easy to share those files with others.
The external hard drive
Aside from a cloud backup, you can also save your files locally on an external hard drive. There is a lot of software available to automate backups to external devices, and Apple and Microsoft have both built in the necessary tools into their OS X and Windows operating systems. If you're looking to buy a hard drive and you wonder what size to get: make sure you get one that is about double the size of the hard drive built-in to your computer.
On an Apple you connect your external hard drive and then click on the Apple logo at the top left of your screen. Select "Preferences" and go to "Time Machine" and switch it "On". At "Select drive" you select the external hard drive you just connected. That's it. From now on, Time Machine will automatically back up everything that is stored on your Mac. If ever anything goes wrong and you need to reinstall your Mac, for instance, you can simply opt to restore your last backup. Or if you accidentally delete an important file, you can get it back from one of your Time Machine backups. Time Machine, by the way, is aptly named because it allows you to "go back in time" and browse and retrieve old files.

Microsoft simply calls its iteration of Time Machine "Back-Up", but the principle is the same. In Windows 10 you click on "Start", then on "Settings", "Update & Security", "Backup" and, finally, "Add a drive". At this last point, select your external hard drive.
In standard mode, Windows makes hourly copies of your user folder, storing your documents and the files on your desktop. You can easily opt to add extra folders to be backed up via "More Options". If you need to retrieve a file, the easiest way to do this is by clicking the magnifying glass next to the Windows button and search for "Restore Files". This will lead you to a tool that allows you to view all of your backups.
Looking for a way to safely store all of your company data in the cloud without volume limits? Check out our OneDrive for Business.