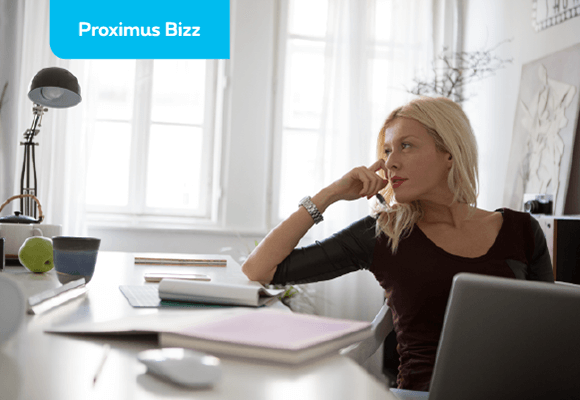 Running your business from your own home? Then you've certainly discovered the advantages: no traffic jams, better productivity and an optimal balance between your home and professional life. Or is that last bit not as straightforward as it sounds? These tips and tricks will help you stay on the fine line between work and time off.
On a tight schedule
Homeworkers often benefit more from a tight work schedule. Use the benefits of life as an independent to your advantage: try to plan external visits outside of rush hours and make sure to schedule important discussions or difficult jobs at those times when you are at your most productive. You could even use a range of free tools to help you out.
Also make sure to keep a tight separation between your work and private life. Shopping or doctor's appointments are best left for after office hours. If that is not an option, make sure to add some extra working time in your planning.
Work in style
Create a nice and inspiring workplace for yourself. Per preference, you should work in a space that is exclusively work-related and that can be closed off with a door. That way you can literally close the door on your work. Invest in the right equipment, good lighting and an ergonomic desk chair. Also make sure you have all of your office utensils handy so you don't have to move away from your work to find markers, tape, paper, etc. You really don't need the extra disctraction this causes.
Available at home and on the road
Does your business require frequent travel or external meetings? Then make sure to invest in a good laptop. A smartphone would also allow you to be reachable in private or professional modus. And why not consider a solution that lets you combine a professional and a private number on one smartphone? That way your customers and other contacts can always get in touch. If your "off work" and don't want to receive professional calls, you simply switch off your professional number and activate its mailbox.
Make good arrangements
Your working day is when you should be working. So it pays to make good arrangements with your housemates, friends and family in advance. Make sure they don't call on you at any odd time of the day. The same goes for you too: if you start calling or texting friends and family during working hours, they'll immediately assume they can do the same.
Do you have children around when you're working? Then it's probably best to plan some time to be there just for them.
Take care
Homeworking is not always easy. It requires a lot of discipline, dedication and organisation to make things run smoothly. But do make sure to plan some time for yourself as well and try not to work all hours of the day and night every day. Plan some free time when it fits your schedule. After all, a bit of rest and relaxation will also improve your productivity!