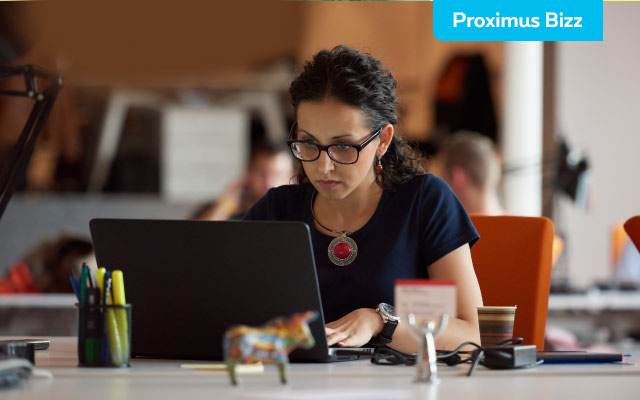 Using the right software can mean huge savings in time and effort for small businesses. But which software should you use? Aside from a range of sector-specific programmes, you no doubt use various general software packages for your administration and accounting. We're happy to share our favourites with you.
Good software helps you to be more efficient so you can focus on your core business. Buying software packages used to take a big bite out of IT budgets but, today, more and more manufacturers opt for subscription-based offerings. The obvious advantage is that you can spread your costs over time. And you always have the latest versions and updates at your disposal. A good example is Microsoft's Office 365 for Business . For a fixed monthly fee, you have access to the major Office programmes (Word, Excel, Powerpoint, Outlook and OneNote) which you can use on 5 different devices. And you get unlimited OneDrive for Business in the bargain, so you can easily share files with colleagues.
A view on the books
Exact Online does precisely the same. Businesses that want to grow and keep full control over their finances can use Exact Online Boekhouden for a fixed monthly fee. This online accounting programme gives you a real-time view and can be integrated in CRM systems. The accompanying apps ensure you always have you data at hand, wherever you go. Curious about the advantages? You can test the package for 30 days before buying.
Security above all
A good antivirus software is indispensable. With Norton Multi Security you can protect up to 5 devices from virusses, spyware, malware and other online attacks. This user-friendly tool also protects your identity and your electronic banking transactions. Just a matter of being able to conduct your business in all safety. If you already have an antivirus and really only want extra protection for your smartphone, then Norton Mobile Security is an obvious choice. This app detects virusses, malware and other dangers and protects your personal data. Thanks to geolocalisation, you can even recover your lost or stolen iOS- or Android-device.
Put order to chaos
To lighten your administrative load, Adobe Acrobat DC is a must-have. This software lets you create, edit and share PDF files in an instant. Thanks to the e-Sign service, it's easier than ever to add digital signatures to documents. No more printing and faxing required. The accompanying mobile app allows you to continue working while you're on the road.