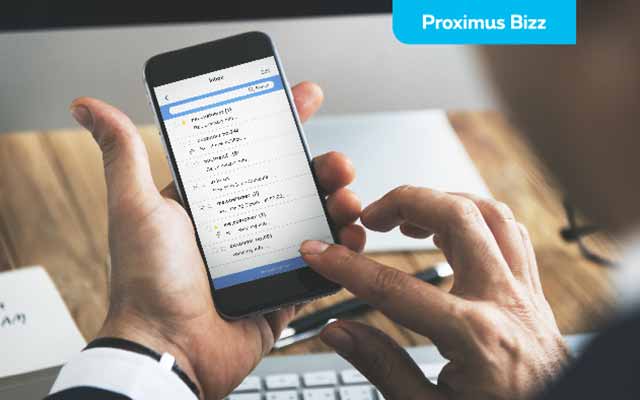 A neat and tidy mailbox? These tips will help you get started.
For many business owners, mailboxes are like the mythical seven-headed dragon: every time you handle a mail message, three or four new ones pop up. So it's best to make sure your mailbox doesn't grind to a halt in a mess of importants mails, spam, newsletters and less important emails.
With these 5 basic tips, you can clean up your mailbox in no time at all.
Get rid of spam

Even with the best filters in place, it's near unavoidable to keep junkmail from your inbox. The remedy is easy: don't open spam but delete it immediately. And make sure your automatic spam folder empties itself regularly.

Make separate folders for work and private things

Another good idea is to keep your mails in separate folders, like one for private mail, another for work-related stuff, one for travel or your kid's school, or… You can shift any incoming mails to their appropriate folder so your main inbox remains uncluttered and you can quickly find the right mails. Mails you've already treated can be put in an 'archive' folder.

Make an end-of-day and end-of-week folder

Do you get urgent mails that require your immediate attention? Then handle them right on opening and don't put them off until later. Mails that are a bit less urgent but should still be handled the same day can be put in an end-of-day folder.

Same thing for mails that need to be taken care of within a couple of days. Opening and working through that end-of-day folder could quickly become your perfect closing act of the day.

Use the right software

All the major providers nowadays have spotted that emails has its ups and downs. And they try to remedy that. Especially mail tools on smartphones and tablets get more and more great functionalities to sort and archive mail. Google and Microsoft both have developed mail tools that automatically try to sort and separate important and less important mails, and they work remarkably well.

Another interesting feature is the ability to plan mails for a later time. You just received an email that isn't immediately relevant? With one swipe you can remove it from your mailbox and have it turn up again in a day, a week, a month, …

Use your out-of-office

You're not in the office or you'd like some quiet time to finish your work? Set and out-of-office. That way you prevent people bombarding you with mails because you're not responding to their original email. And it's a nice way to let those people know when you'll be available again.