Crystal clear: the advantages of Fiber for your business
Published on 11/10/2018 in Tech, tips & tricks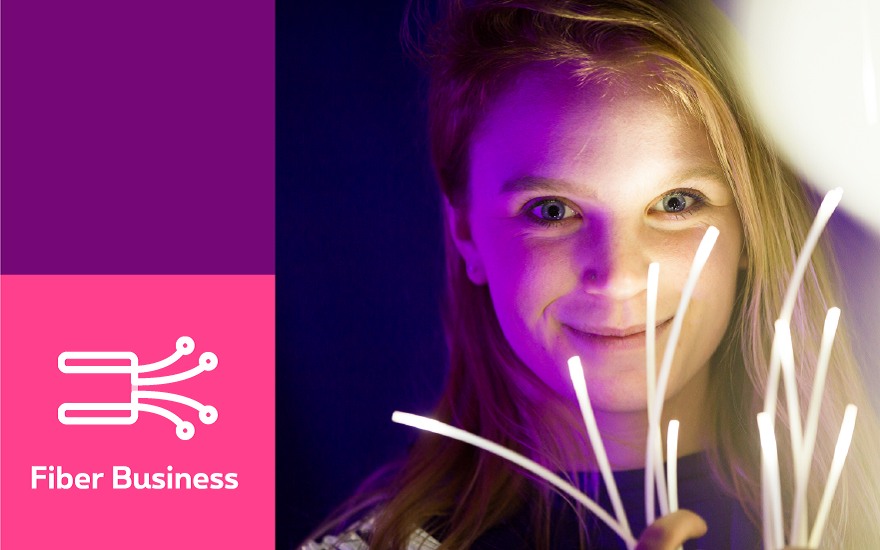 To prepare your business for the future, you need a fast and reliable internet connection. If you opt for Fiber, you get a technology that grows alongside the digital needs of your business. But how does it work, and why would you choose Fiber?
How does Fibre work?
Fiber is built up of fine threads of glass that guide laserlight. It's incredibly fast and efficient: 300,000 km/sec. That makes it a far sight faster and more reliable than any other network technology. The last part of the connection, from the street into your business, used to be traditional copper of coax. With internet use increasing at its current rapid rate, Proximus is the only provider in Belgium to bring Fiber straight into your business.
Send a video file of 1.5 GB, for instance and that would take about 56 secs on a Fiber connection. With a standard internet connection, you'd have to wait 2 minutes.
The advantages?
Surf, work online and share files faster than ever
A safe and stable internet connections without interruptions
Continuous, fast connections, regardless of how many people are online simultaneously
You're set to face the challenges of digital tools now, and in the future
Free connection for the duration of Fiber works in your street
Can you get on our Fiber network?
In 2018, we already put Fiber in Ghent, Antwerp, Liège, Brussels (Anspach), Hasselt, Namur and Charleroi. In the meantime, we're already planning the roll out for new building zones and industrial areas in Roeselare.
Want to get cracking with Fiber? Check http://www.proximus.be/Fiber to see if connections are available for your street. If so, you can immediately set an appointment for your connection. And that connection is free as long as we're working in your street. So don't wait too long!
Got more questions? Check our Frequently Asked Questions or get in touch with your Business Expert.
Useful links:
Questions about our offers?
An advisor is at your service