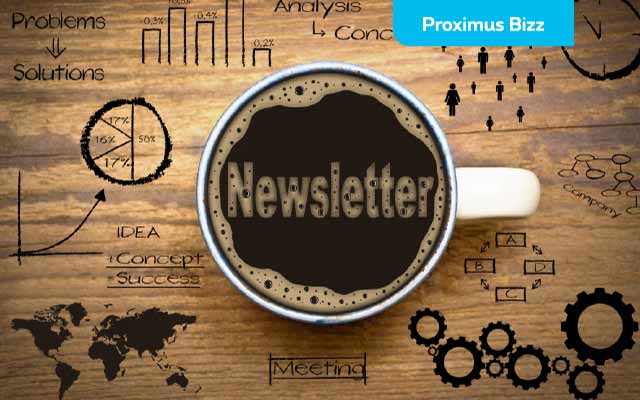 Sending an eNewsletter for your business is a good way to attract more visitors to your web site. You can put in all sorts of interesting information to entice customers to find out more. But how do you write and create a good eNewsletter?
1. Use a powerful subject line
Lots of emails and eNewsletters get binned before the receiver has opened or read it. The most powerful tool to make sure the receiver reads your news is by using a strong subject line. You can easily compare the subject line to the headline on a newspaper article: it's the best way to pique your readers interest and to get them to open it. But the attraction of a good subject line is not always in the delivery of 'hard' news, like newspapers do. An unexpected angle ("Hillary Clinton is not a politician") or a recognisable advantage for the reader ("Discover the four best ways to…") can do the trick just as well. But be careful always to come up with a subject line that is truthful. If you 'trick' the customer into opening your newsletter, he might not be inclined to open the next one as well.
2. Write about the right topics
A common error in many business newsletters is that they are about the wrong subjects. That lowers the success rate and is a waste of time and effort. The right subject isn't always the topic that's in the news at that time. If, for instance, new accountancy guidelines for small businesses have made the headlines in the past week, there's little sense in doing another article on that. Unless, of course, you can bring new information that is specific to your domain or your customers.
When choosing good subjects it's best to keep two things in mind. Firstly, an eNewsletter is usually a tool to attract visitors to your web site, so if you have anything new on your site, make sure to use that in your newsletter. Secondly: learn from previous newsletters. Any modern mailing tool can tell you exactly which topics were most successful in your earlier newsletters. What topics did people click on? What brought the most visitors to your site? Expand on that.
3. Keep it short
Again comparing to a newspaper article: if your email subject line is the header, then your text is the article intro. If you want to give information about a certain topic, limit it to a couple of lines of tekst. In those few lines you should answer the major questions (who, what, why, when, …?), but don't explain everything. Link your email topic to a page on your web site where the reader can find the full article with all the information.
One tactic used by a lot of email newsletters is to give a few articles with intro texts and then provide a list of other articles where you only mention the title.
4. Use a lot of pictures
Long gone are the days when newsletters actually looked like letters. Work with elements that make it easy to read your newsletter, such as bullet points and photographs. Especially if you have three or four main articles to promote, using strong images is very important. The stronger the image, the less text you will need. In some cases, you can make do with a good image and a good title. Don't forget to put a hyperlink behind your image. That often works just as well as the obligatory 'read more'-link.
5. And send!
Lots of people send their newsletter immediately after putting the final dot behind the final line. It's a trap: don't fall into it! If you really want to get the maximum from your efforts, you should think about the best timing to send your email. When would you like your target audience to get your mail in their mailbox? Friday afternoon at 5 is usually not the best time but, for a lot of businesses, right before noon (and the lunch break) is. Again, check your previous newsletters and analyse when most people opened them. And be consistent in this. Create a habit of sending your newsletter at regular days and times.