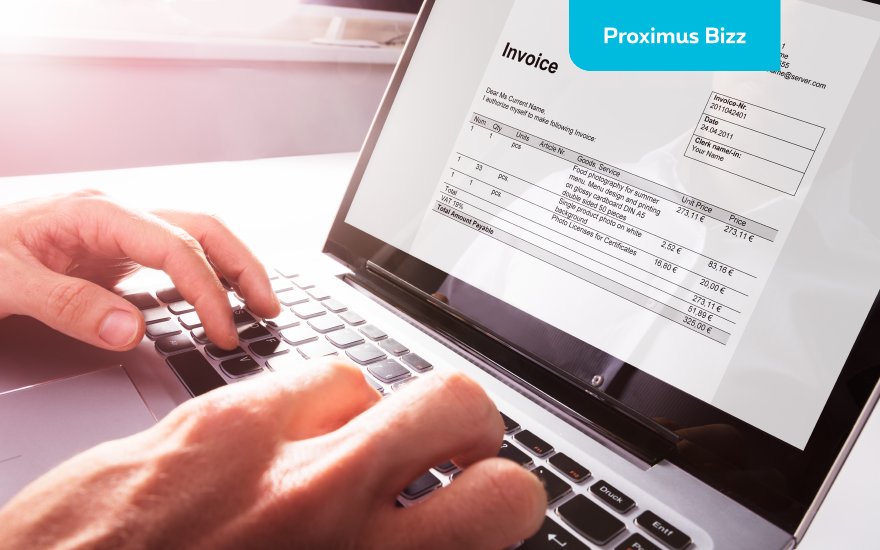 A great many large companies have already switched from paper to digital invoices. But digital invoices undeniably have scores of advantages for small companies and self-employed workers, as well. How do you start? We're happy to explain.
What does an e-invoice look like?
E-invoicing is a lot faster, safer, cheaper and greener. And it is also good to know that the details that have to be included on a digital invoice are exactly the same as those that you have to put on a paper copy. So you must be sure to include your name, legal capacity, address and VAT number, as well as the word 'invoice'. The digital invoice also has to fulfil a few conditions, mainly relating to 'authenticity' and 'integrity' (which means that it cannot be altered in any way).
No IT expertise needed
How does an electronic invoice have to be sent? You do not have to be an IT expert at all. There are four ways of drawing up an e-invoice.
Either from your mailbox to the mailbox of your customer, for example as a PDF attachment.

Or from software to software, if you and your customer both use an accounting package with which you can exchange electronic data.

A third way is through a service provider: if your customer or supplier uses software that is not compatible with your system, an intermediary (the service provider) ensures that the customer receives the message in the right format.

Finally, a fourth method is via a web portal. The sender of the invoice logs in to a website where the invoice data are entered. The web application then generates a structured data message which is sent to the recipient. For self-employed workers or small companies with a limited number of invoices, a web portal offers a simple and affordable solution.
e-invoice in MyProximus
Are you a Proximus customer? If so, you can opt to have the invoicing process made a lot easier via the Proximus e-invoice. You then store all your invoices in your secure MyProximus account. You can see at a glance which invoices have already been paid and which are still outstanding. Is a new invoice available? Then you receive a text message and/or an e-mail from us to let you know. All you have to do to switch to the electronic invoice is to say you want to do so via the MyProximus tool.