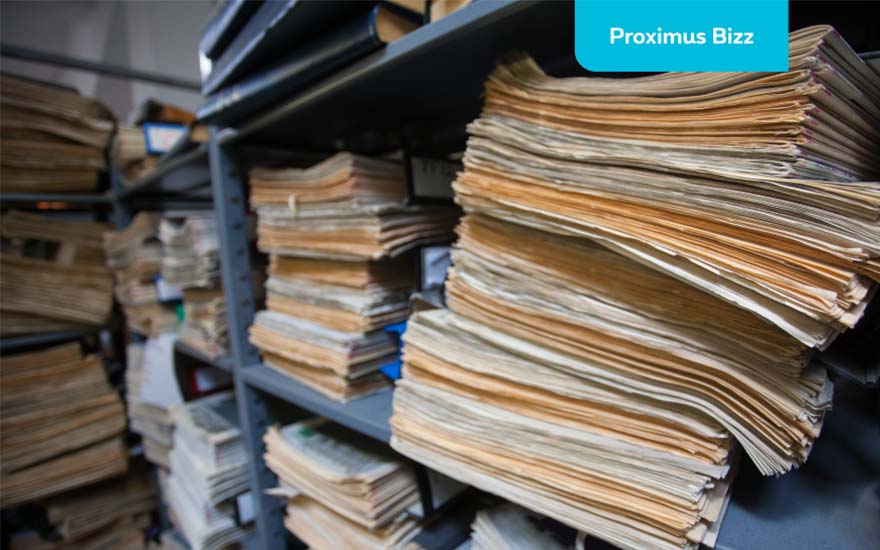 More and more self-employed workers are striving for a paperless (or more accurately a low-paper) office. What advantages does this offer for small entrepreneurs and how do you do it? An overview.
Everything available all the time
It is a good idea to digitalize incoming and outgoing paper flows in your company as much as possible. Unlike a paper invoice or purchase order, it is possible to have access to a digital file anywhere, at any time, not only on your computer, but also on your smartphone.
If you store the file centrally, in the cloud for example, sharing it with colleagues and staff quickly and easily is a piece of cake, too. Even if you are on the other side of the world.
Retrieving a document easily
What is more, digital files (even if they are hundreds of pages long) are far easier to search through for key words. And last but not least, there is of course the practical advantage: no more huge, overflowing filing cabinets where no one can find anything.
Away with mistakes and errors
Are you worried about the legality of your digital documents? There's absolutely no need. For example, there is no longer any legal difference between electronic and paper invoices. Electronic invoices are even a lot more reliable than paper copies: the risks of errors are far smaller.
For instance, electronic accounting packages can check purchase orders and delivery slips automatically when they draw up invoices so you can be absolutely certain that everything is correct. And because invoices no longer have to be entered manually, re-typing errors are a thing of the past.
Scanner in your pocket
You can of course buy a 'real' scanner to scan paper, but what many entrepreneurs do not realize is that this technology is also built into their smartphone. There are scores of apps that you can use to scan documents with the camera on your telephone. The results are often astonishingly good. Tiny Scanner for Android and iOS, Genius Scan and Scanner Pro for iOS are among the well-known examples.
Big names such as Evernote (known for the notes program of the same name) and Microsoft have also developed their own scan app: these are called Scannable and Office Lens respectively.
All these apps can automatically recognize the contours of documents, even when you photograph them at an angle. Creases are automatically removed, too. The most sophisticated apps can also recognize text automatically.
Strongbox in the clouds
Finally: as we indicated above, combining a scanner with a cloud app is not to be scorned. Onedrive for Business is an excellent choice here. This is a very handy and easy yet powerful solution from Microsoft that gives you your own strongbox in the clouds.