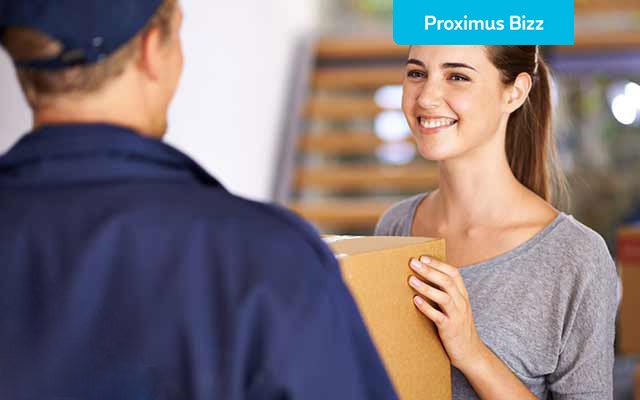 In the past, you had to go to a Proximus Center if your modem or decoder was defective. But today, it's much easier: we come to your business or home.
Super, that's even quicker and easier.
Before, you had to go all the way to a Proximus Center for a new device. And if you had a defective device, you had to bring it along with you. This wasn't very convenient.
That's why we now sort everything out with you in your home. Are you a new customer? Do you want an extra decoder or modem, or to upgrade to a new version? Has your device finally broken down? We will now deliver the new device directly to your business or home or to a UPS point in your area.
Best of all, it's totally free and quick as a flash
What's more, you have full control: you choose how we deliver and when. But we guarantee it will always be within two working days. If you're a small business and you call us before 17h on weekdays or 13h on Saturdays it's possible, in certain cases, to get your new device the same day. We said it was quick!
And we haven't forgotten about your old device. When you order, we'll tell you whether you can take it to a container park or to a UPS point in your area.
How does it work?
Simply call us on 0800 55 500, every day (except public holidays) from 8 am to 12 midnight. This way, we can immediately do a full check of your connection and identify the problem. And then we'll take care of the rest.
Just to be clear: we no longer accept defective devices in our Proximus Centers, so don't go there unnecessarily if you have problems.