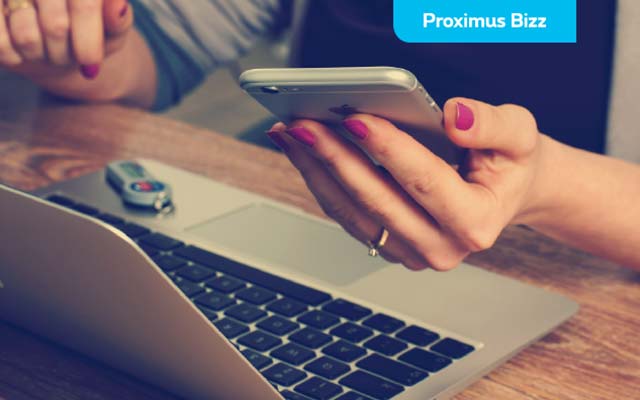 Surfing on your tablet uses data. That's self-evident. But how much data is that? It also depends on what you do with your smartphone or tablet, and where you do it: at home or on the road.
Five profiles
To clarify things, we'll look at things from the points of view of 5 entrepreneurs or small business owners. Each with their own profession and profile. Let's see what a typical data use could be for them.
A butcher
Our first business owner is a butcher. He's in his shop or workshop all day and uses his smartphone via his own wifi network. He doesn't have the time to do much more than the occasional surfing and mail-checking. The minimum volume of 250Mb should suffice to get him through the month.
To give a rough idea: one email with only text uses up about 10kb of data. So our butcher could send about 25,000 mails before his data volume is used up.
A salesman
Our second business man is a sales person, working on commission. He visits customers all over Belgium for his clients. He's often on the road and often checks his mails and his mobile agenda. He also, regularly, sends product photos to customers. That bit in itself merits a substantial data volume. A decent quality image is easily 3 or 4 Mb so a 2GB subscription wouldn't be overdoing it.
The photographer
Number three is an independent photographer. She's often on location and sends images immediately to her editors. These professional images are often several dozens of MB each. She also uses her smartphone as GPS and is continually mailing and surfing. She could certainly do with a 5GB subscription.
The marketing consultant
Our fourth one is a marketing consultant. She's always on the move visiting customers and mobile working has become second nature to her. She sends a lot of heavy documents and presentations and tries to take in the occasional video conference. These conversations can use up up to 500 or 700MB per hour. No discussion here: this road warrior can certainly make use of a 10GB subscription.
The foreign business owner
Number five owns a parquet factory in Latvia. He's not only on the road a lot in Belgium, but can often be found in his Latvian business. His tablet and smartphone are his lifeline to home and business. This is a special case: surfing abroad is counted separately from national surf traffic in Belgium. Fortunately, we have a subscription that includes 10GB national data volume as well as 1GB international data volume.
Do the FON
Finally: as soon as you reach the limits of your data subscription, we'll send you an advisory text message. This way, you don't get any nasty surprises on your invoice. And of course you can always use the free MyProximus app to check your use.
Good to know: as Proximus customer you have access to millions of FON wifi hotspots all over the world. That way, you can surf without using up your data volume.
Finding the best Proximus subscription for your business? Click here for an overview or use our online tool to check which subscription fits you best.
Would you prefer professional help to make your choice? Visit one of our Bizz Experts for free. Find your nearest Bizz Expert here.