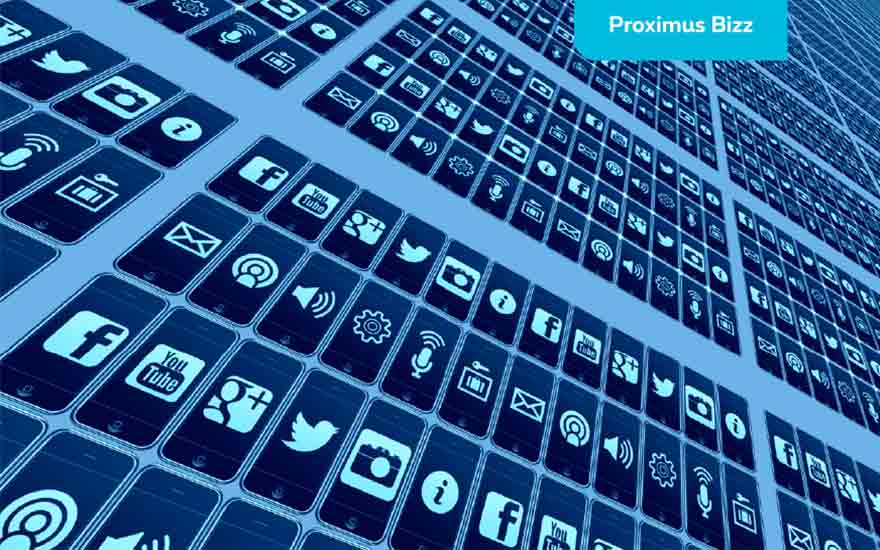 Many smartphone subscriptions come with a fair amount of data these days, but it's good to keep an eye on your consumption. Here are four categories of apps and tips to limit their consumption.
Navigation apps
Apps that use GPS to determine your location – such as Google Maps – often consume data. Fortunately most of these programs can now also download the maps in advance, while for example you are using Wi-Fi. If that isn't possible because you unexpectedly need to use your GPS, then use it only at the last minute. If for example you are driving from Bergen to Antwerp, switch on the GPS only when you enter Antwerp and really need the navigation directions.
With many GPS apps – e.g. TomTom – you must download maps before you use the app. Naturally it's best to do this via Wi-Fi. Then you can simply turn off the data connection. What you do miss then are for example warnings about accidents, detours and notifications of better, alternative routes.
Social media
Social media are par excellence the type of apps that consume a lot of data. The more updates you post the higher the consumption, of course, but viewing videos and photos from friends can also really add up. A handy tip in advance: in the settings for Instagram, Twitter and Facebook, turn off the automatic playing of videos or allow this only when you are using Wi-Fi.
There are quite a few differences in how voraciously social media apps use data. Thus, posting a photo on WhatsApp costs approximately 100 kilobytes. On Snapchat that is easily three or four times as much. Just one minute of calling via WhatsApp burns up a good 400 kilobytes; with Viber and Zangi it's only half that. A minute of live video on Facebook costs you eleven megabytes. Note: these are not absolute figures. A lot depends on the quality of the video or photo you view and your connection. On 4G many apps will automatically provide better quality.
Video calling
The Dutch site Iphoned recently did an interesting test of which apps consume the most in video calling. The absolute champion turned out to be Skype; this app ran through a good thirty megabytes per minute on average. We have already cited the reasons for this above; Skype always tries to provide the best video quality, and that costs a lot of data.
The most frugal video call app by far turned out to be Facetime from Apple on iPhone. This program needed no more than 3.2 megabytes per minute. Duo from Google also scored rather well: 9.7 megabytes per minute.
Streaming apps
It's hard to get around it: streaming video costs a lot of data. So if you want to enjoy Netflix or YouTube en route you can look for a FON Wi-Fi hotspot. In any event, it's a good idea to limit the quality of the videos in the settings. In Netflix for example, the highest setting consumes four times as much data as the lowest.
Listening to music en route is quite a bit less data-intensive than watching video, but… the easiest solution to avoid high consumption is simple: download the albums you want to listen to before you set out, and do this via Wi-Fi. Then you can even turn off your data connection; the music keeps playing.