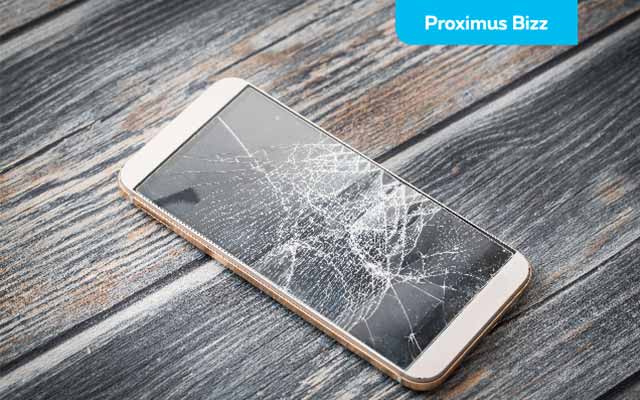 Some people buy a new smartphone every six months, others try to stretch the lifetime of their trusted companion for years.
But when do you know it's about time to look out for a new phone? These telltale signs should give you a good indication.
Your screen is broken

A broken screen is one of the main reasons why people purchase a new smartphone. Not surprisingly, because your phone might still work, but having a cracked touchscreen hampers your ability to use the phone. Swiping can be difficult as well.

And since replacing a screen is quite a costly affair, you might want to direct that budget towards buying a new phone. But do make sure you're not entitled to a replacement phone under your warranty or any insurance you might have. And, while you're at it, try to get some protection for your new phone.

Your phone can't handle the latest operating system upgrade

Google launches frequent updates of their Android operating system. But these updates are often only suited for the latest devices. So, if your phone is getting on in years, chances are that you won't be able to upgrade it anymore. And even though your phone will continue working, this comes with a couple of security risks.

Newer Android versions always come with fixes for bugs and leaks they discover in earlier versions. Without those fixes, hackers stand more chance to hack into your phone and data.
Apple is a bit more generous in its upgrade approach. The latest version of its OS (iOS 9.5.3), for instance, can still be installed on the iPhone 4S, a phone that first hit the market back in 2011.

Your battery drains faster

Most modern devices come with a fixed battery. And when that starts to go, you'll have to replace the whole phone. The process is gradual, most of the time. You're battery won't stop working all of a sudden, but you'll notice it gets increasingly difficult to go a full day on one battery charge.

The camera's had it

The camera is one of the phone parts that is evolving quite rapidly. The difference in image quality between a new phone and one that's three or four years old can be immense. More and more users no longer have a separate camera, but only rely on their smartphone for images. So if you want to keep taking pictures at the best available quality, you'll have to get a new phone regularly.

Phone in slo-mo

It's not just the cameras that evolve in giant leaps, but the chips that drive your phone are exponentially faster than ever before. Is your phone slow to react? Does it take a short while before apps open up, or a couple of seconds between a button press and seeing its result? Chances are that your phone processor can no longer handle the requirements of modern apps and multimedia.

Short of storage space

Apps, photos and movies, music and documents, … They all take up storage space. Where you could easily get by with 4 or 8GB in the past, that will scarcely suffice these days. Some phones already come in 128GB versions. And that number will only go up in the future.
When to buy?
So, when you've finally decided to get a new phone, what is the best time to hit the shops? There are dozens of manufacturers out there, each with their own release calendars.
Apple, for instance, always launched new iPhone versions in September. Samsung's Galaxy S-models usually go on sale around March or April. Google's Nexus phones hit the markets around October or November.
As a user, it's often a good idea to wait for the big trade shows like MWC in Barcelona or IFA in Berlin. A lot of manufacturers use those fairs as a podium to launch new devices or versions.
Need a new smartphone now? Check our best deals here.