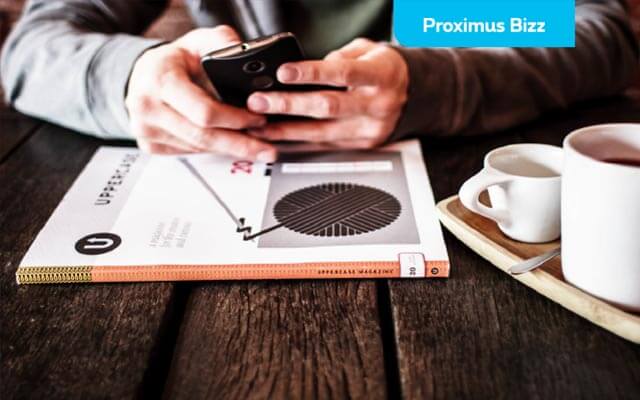 Keeping work and private life separated is far from easy for entrepreneurs. As a business owner, you want to be available all the time, but you still need to take some time out now and again. By combining two phone numbers on one phone, you can easily separate work and private life.
You're always on the go for your business, but once in a while you'd like some quiet time. That's only natural. Switching your phone off is the obvious thing to do. But then you also miss your important private calls.
Proximus makes things easy by offering you the ability to combine two numbers on one smartphone. Bizz Mobile Switch lets you have one phone number for your business and a separate private number as well. Both numbers operate on the same smartphone.
Save money
The advantages are obvious. You no longer have to carry two phones to keep work and private life separated. And no more separate phone subscriptions either, which is a great way to save money. And you still get two invoices, so you can neatly separate your business from your private expenses.
An app does the work
So how does this work? Proximus developed an app, called Bizz Mobile Switch, that shows your professional number on all outgoing calls and lets you receive calls on your private and your professional number. Calls to your professional number are transferred to your voicemail once you switch the number off. The app even comes with a built-in planner so you can pre-plan when you want to be available for business calls.
Your office in your pocket
Bizz Switch also comes with another flavor that works with a landline: Bizz Office Switch. This allows you to use your smartphone to answer calls made to your fixed phone. Both devices will ring and you can choose which one to answer. This way, you'll never again miss a call, even when you're not at the office.
And when you call customers, they only get to see your fixed number, so your mobile number remains hidden.
You can find everything you ever wanted to know about Bizz Switch here