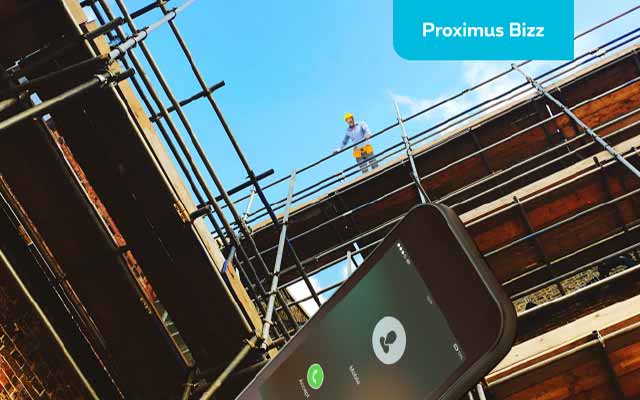 … when your mobile lets you down
A smartphone is extremely handy, but so very fragile. A moment's inattention and your costly lifeline gives up the ghost. However, you can find a solution and we are pleased to help you.
Smartphone broken or lost?
You often only realize what your smartphone means for your business when you no longer have it. Inconvenient, of course, but you don't have to do without it for long. Because if your mobile is broken, lost or stolen, as a Proximus subscriber you receive a replacement smartphone from us free of charge and you can keep it for a whole month.
Just go along to the Bizz Expert in your favorite Proximus Center and you can take your replacement device with you straight away.
Your new smartphone
A smartphone like this is still fairly expensive, so if you have to buy a new one, it's best to take good care of it. You can do that right from the purchase.
A substantial discount or a fun accessory with your new smartphone? Exchange your old smartphones for our Smartphone Vouchers and that will bring down the cost nicely. You can exchange up to five smartphones at a time.
Would you prefer not to hide your new smartphone away in a cover or a pouch? Then go for Clear Coat to protect your mobile against scratches and dents. You can do that right away in your Proximus Center.
Take care of the inside, too
It's not just the outside of your new smartphone that needs looking after. A lot can happen inside, too.
Is setting up the phone again by yourself just too much? Ask your in-store Bizz Expert for a Smartphone Start and we'll swap and install your SIM card straight away as well as adding a couple of apps, all for free. And we can configure your email or even give you some training for a small fee.
Your device certainly needs protecting against water and dust, but don't forget that viruses and hackers are a threat, too. With Norton Security, you can protect your device against nasty little bugs for just € 2 a month. What's more, you'll be able to track your smartphone easily if it gets stolen.
Real peace of mind with Smartphone Omnium
If you want full cover for your device, go for Smartphone Omnium. With Smartphone Omnium, you receive your replacement phone by the next day at the latest, wherever you are in the European Union.
What's more, it covers you against accidental damage, theft, robbery with violence and more. Click here for details of the full cover and conditions.