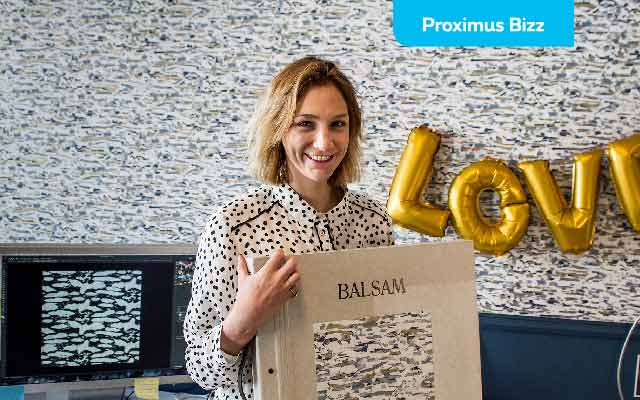 Alexia de Ville de Goyet is a Belgian wallpaper creator.
In 2014, she launched her own brand of high-class wallpapers, Tenue de Ville. Her collections quickly captivated interior design professionals around the world. 100% made in Belgium, Tenue de Ville adorns interiors with elegant, modern wall coverings. The third collection, 'Balsam', came out in January 2017. Encounter.
"Tenue de Ville is my life," Alexia de Ville begins. "Launching my company was probably the greatest challenge of my life. At first, things weren't easy, but you can learn to become a businesswoman," Alexia smiles.
Watch this video with NL subtitles.
Inspiration
"I love travelling, photography, videos and graphic creations. My various passions inspire me when I'm creating new wallpaper designs," Alexia de Ville tells us. "The trainees who work with me are a great source of inspiration, too. They suggest other techniques, other approaches and they have their own sources of inspiration. In the Internet age, I glean ideas from social networks like Pinterest or Instagram, as well."
Finding an associate
"The launch of my first wallpaper collection was a difficult time in my career. I was lucky enough to find an associate who has his own established brand. Right from the start, he believed in me and suggested that I set up a company with his help, both for the financial side of things and for production and distribution.
I didn't expect that. He took me under his wing, saying that it is important to 'help young people', and he introduced me in this network at trade fairs, the ideal place to make contacts. It's a very masculine world and it's not always easy to make your mark as a woman, or simply as a young beginner. Confidence came with time."
International Women's Day
"When I was 20, I thought a lot about the equality of the sexes. I was interested in videos and performances by artists from the 1960s and -70s, who very often put the position of women at the heart of their concerns. Today, I have the feeling that the revolution is over and we no longer have any right to talk about it. However, there are still differences, in terms of salary, for instance."
From an entrepreneurial point of view, Alexia de Ville also sees differences. "Whatever anyone says, there are fundamental differences between men and women. It seems to me that men run businesses differently from women. They are not afraid to say things. They press ahead, with confidence.
Women take a more emotional approach. These are generalities, of course. It depends on the character of each individual. Nevertheless, studies on children show that both little girls and boys project the masculine figure as being more intelligent and superior. Women need to have more confidence in themselves. According to several studies, they usually manage the company's money better and they create jobs more quickly."
Advice for businesswomen
"Listen to your intuition, dare to have confidence in yourself, to believe in yourself. And then, let yourself dream and allow yourself to move forward bit by bit," says Alexia de Ville.
"Meeting other businesspeople and other businesswomen who go through the same stages and difficulties gives me courage. You feel less alone and you help one another. Sometimes you push yourself a little, as well. Every action brings a new opportunity. I have noticed that in life, nothing ever leads to nothing."