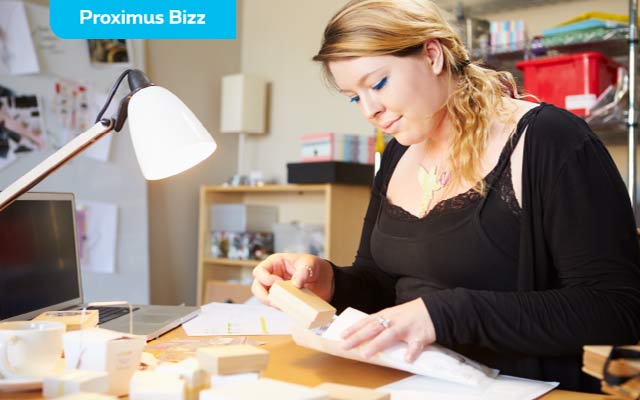 The modern consumer is a fan of multi-channel. According to this new axiom, you have to find non-traditional ways to keep your customers happy and find new ones. Like having a web shop. So how do you get started and what do you need to avoid? We present you with some golden rules to get an accessible, attractive and customer-friendly web shop.
Make sure your home page is uncluttered
Having a lot of visitors is nice, but conversion is what really counts. Visitors and (potential) customers need to get an immediate picture of what you have to offer. Also remember that a professional logo is your web shop's essential business card.
Make the navigation as clear as it can be
Visitors have to be able to browse your site quickly and efficiently. On product pages, all attention should focus on the product. Make the top part of your site as small as possible, so visitors can immediately focus on your offer.
Keep the shopping cart visible at all times
It's quite indispensable: the little basket icon that indicates your shopping cart. Make sure it is always visible on-screen so customers can quickly add products. When they're ready to buy, make sure they can do so quickly, safely and transparantly. If not, this is a major reason why customers shop but don't buy on your site.
Search function and login
Buyers need to be able to set up an account so they can order more easily next time, they can check the status of ongoing orders and look at the history of their purchases. If you offer a lot of products, it's best to make sure the search function works really well.
Good and beautiful images
This seems very straightforward but, nonetheless, a lot of shops go wrong here. People want the same experience online as they have offline. They have to be really sure before they buy a product. So make sure your product photos are of the best quality and show all the necessary detail.
Use classic sales tools online
People are very sensitive to promotions and discounts, as any market vendor can tell you. You immediately draw the attention of the potential buyer. So always put promotions in the spotlight, especially on your home page. Also mull over convincing arguments such as free shipping and trial offers. A great banner can do wonders.
People still need support
Put your customers at ease during the purchasing process. Even when they shop online, they like to have someone available who can answer their questions. Online, you need to replace the traditional shop assistant with an extensive FAQ. If you really want to cater to your customers' concerns, you might think about 24/7 hotlines and live chats.
Use quality labels
Quality labels are small images or logos of external parties that guarantee the safety of your web shop. These labels give your customers an enhanced sense of security. This is essential, because visitors are more likely to buy when they know they will be safe. Find out more about Belgian eCommerse labels in our previous article.