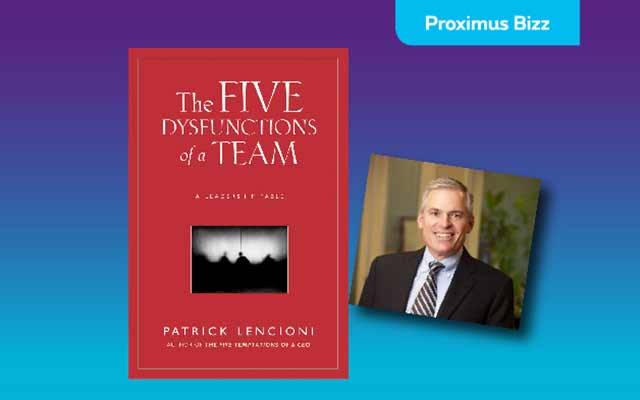 Teamplayers. They're in high demand in any job ad and few jobhunters neglect to promote themselves as such.
So how come it's so hard to get people to work in team? What are the obstacles and how can you tackle them? In "The Five Dysfunctions of a Team", author Patrick Lencioni tries to make sense of things.
About the book
Trendy Silicon Valley high-tech company DecisionTech Inc. has a problem. They are shipping promising products and they have extremely talented people on staff, but organisationally, the company is a mess. Managers and teams have created their own islands of comfort, don't collaborate the way they should and – by working in that way – or putting the company's future at risk. No one owns up to problems and staff morale is low.
So the Board of Directors takes a bold decision: they replace the incumbent CEO with Kathryn Petersen, a 57-year-old lady with next to no experience in technology. But she does have one quality which makes her tremendously valuable: she's an ace in building teams.
Without giving away too much of the story: DecisionTech doesn't exist in real life. As in most of his books, Lencioni uses a romanticized story to explain his ideas and concepts. The first part of the book tells the story of DecisionTech and the adventures of Kathrun Petersen and serves to illustrate, in a way that is both comprehensible and fascinating, how things got to where they are.
Lencioni uses the second part of the book to take a closer look at the theories behind the story. He identifies five key obstacles that prevent teams from collaborating: lack of trust, fear of conflict, lack of dedication, no accountability and ignoring results. For each of these pitfalls, Lencioni proposes methods to get around them and solve the issue.
Why you should read this
Unless you are self-employed and work on your own, just about every company is made up of different people. Each with their characters, skills and flaws. The difference between success and failure is in getting those people to cooperate, to pull together and inspiring them to do so.
Lencioni reaches out to every business owner or manager with true insights, knows how to present them comprehensively and offers solutions. The narrative form makes the theory easy to read and digest. The author does point out, however, that theories about teamwork are invariable simple, but that implementing them in real life is anything but easy. Human nature, lifetime habits and the political games you find in most every company are really hard to get past.
In the U.S., Lencioni's book is a eagerly read by a lot of managers on professional sports teams, a "business" where good teamwork is of prime importance.
About the author
Patrick Lencioni is both founder and leader at The Table Group, a consulting company that advises companies about their "organizational health". Something he himself describes as their capacity to function in a way that is adequate and efficient, and to have the right response to certain influences. Leadership, communication and structure are essential parameters in this.
Lencioni has to date written a good dozen business and management books and has turned them all into bestsellers. He is also a frequent speaker at events. He currently resides in the San Francisco Bay Area with his wife Laura and his three sons.
Proximus proposes:
Want your team to cooperate better? Technology can go a long way to help you achieve this. With a better call management, for instance. Want to find out more? Click and see how Bizz Call Connect can help your teams and your customers.