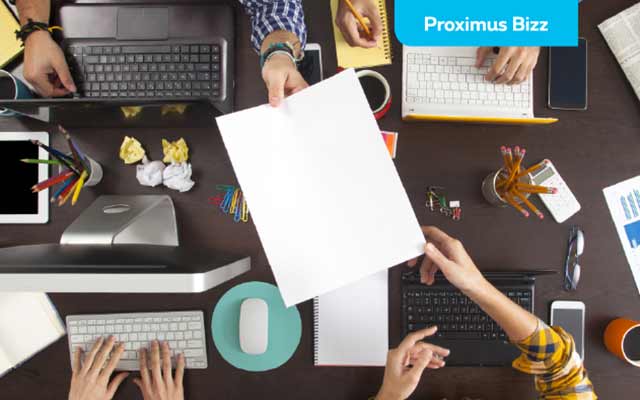 You probably exchange a lot of information with colleagues via email. But there are quite some fast and efficient apps out there to make collaboration as simple and productive as possible. We've listed five must-haves.
1) SLACK
Efficient communication is a major contributor to good collaboration. And that is exactly what Slack excells in. Slack is a kind of chat client, but one with options and tools that are really aimed at productivity. Topics are discussed in specific "channels" that you can open up to any person or group by simple invitation. Slack can easily be integrated with project management software or your businesses' Twitter feed.
Get your Slack here
2) TRELLO
Trello is a hugely popular project management tool with a very visual way of working. The app consists of multiple lists, which in turn are made up of "cards". These can be to do-lists, checklists, images, mail attachments or conversations from people you share Trello with. Cards can have distinctive colours (like green for "done" or red for "urgent to do"…). You can also rank them any way you want. Especially for people who are visually oriented, Trello provides a great way to keep an overall view on your project or your busy work schedule.
Download Trello here
3) ASANA
Asana actually started life as an internal tool at Facebook, but nowadays it's competing with Trello over the title of most popular project management app. Whereas Trello is often used by individuals, Asana can keep taps on multiple projects at once. It allows you to visualize all the tasks that have been set on different projects and in different groups and you can order and prioritise them. Asana also comes with an in- and outbox that lets you share comments, updates, deadlines and task statuses with collaborators.
Give Asana a go here
4) BASECAMP
Basecamp has been around for a very long time, and it's not so hard to see why the app is still going strong. It offers different options to exchange files, calendars and messages. You can keep to do-lists and even write wiki-style documents. And all of that comes in a handy, simple interface. Nice additions, like the "Don't Disturb"-button make Basecamp a great tool for professional teams.
You can find Basecamp right here
5) OFFICE 365
Everyone knows Office365 as a tool to create professional documents, but it actually has a lot of components that will really help you share and collaborate.
By storing your files on OneDrive for Business, for instance, you can easily organise and share them. It allows you to collaborate on documents and tells you who made the last updates when. Sharing certain documents with business partners or customers is amazingly simple. And if you're not online while you're working on a document, it will automatically be synchronised with OneDrive for Business the next time you log in. And because everything gets updated online, everyone always has the most recent document versions at hand.
You can get Microsoft Office365 with great support in a Proximus Bizz Pack .