7 reasons why we're fans of The Walking Dead
Veröffentlicht am 09/02/2017 in Showtime!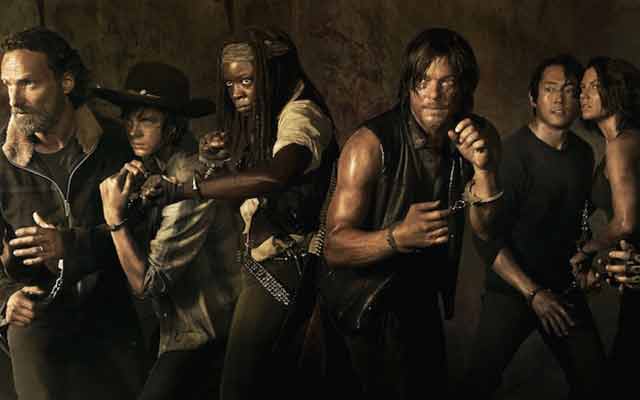 Yep, we'll definitely watch the new episodes!
For even though The Walking Dead is now in its seventh season, it remains darned exciting to watch. And from 13 February the story continues, so you know where you can find me on Monday evening.
For those who have not kept pace with this much-discussed series, here are the 7 main reasons why you just have to start watching The Walking Dead with us:
The characters who are fighting to survive ...




The main characters are just ordinary people who've ended up in an exceptional situation. Practically everyone has to learn to live with losing quite a few loved ones around them while doing everything they can to survive at the same time. That combination of circumstances means you can identify completely with them. Some of them you genuinely like (Hershel and Glenn), while others you can only curse (yes, Shane, we're talking about you).

... in particular our favourite: Daryl




Our real hero in these dark days. Inseparable from his crossbow and cool motorbike, he most definitely has a bad side to him, but at the same time he soon shows himself to be very human. We are secretly curious as to what exactly Daryl did before hell broke loose.

The women all have strong characters




In this series, there are no boring ladies who are merely secondary characters. On the contrary, throughout the seasons, quite a number of strong women make their appearance and they can hold their own. Using martial arts, if necessary. Time and again, we're especially amazed at Carol (and, in the later seasons, by Michonne).

But above all: no-one is safe




Naturally, because this is a world in utter damnation. Believe us, no-one is completely safe in this series. Don't tell us we didn't warn you, when your heart gets broken...

And then there's also the bad guys ...




You may think that the large hordes of zombies are the main enemy in this story. Well, you'd be wrong. At times the often psychopathic bad guys are a much greater danger in their fight to gain total power over the living. They spontaneously make our blood boil. And most likely yours too.

... and the brilliantly directed confrontations




Especially with the "Walkers" as the zombies are called. Deliciously explicit, we secretly love this. But the fights between the living also impress. And if some major character dies, you're immediately caught up in the emotional moment.

All this makes for emotional scenes and crazy cliffhangers




What characterizes The Walking Dead in particular are the complete plot twists at the end of an episode. You know, twists which leave you with the impression that you've been kicked in the stomach. So if you're watching an episode that seems a little less exciting to you and you think you've seen everything the series has to throw at you, think again...
Getting keen to watch The Walking Dead? Then just watch the new episodes of season 7! You know we will! From 13 February, every Monday evening at 10 p.m. on FOX. It's included in Entertainment Channels , one of the TV options you can choose for free with your Tuttimus subscription.
Or do you want to start watching from season 1? No problem, because the first six seasons are available on Netflix, via Proximus TV. And yes, this too is now included for three whole months in your Tuttimus subscription.
Peter
Ich habe eine Leidenschaft für das Internet und die Kommunikation und bin ein großer Fan unserer Marke.
Andere Artikel von Peter