Prepare your smartphone against theft? This is how.
Veröffentlicht am 14/12/2016 in Tipps und Tricks von...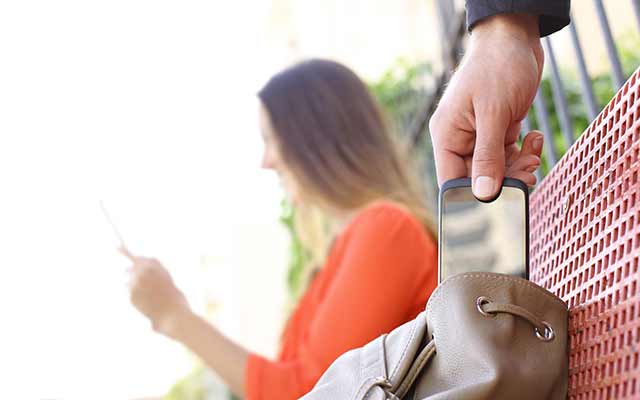 Losing your smartphone is inconvenient and distressing.
Inconvenient because without a mobile you're suddenly out of reach for everyone and you've often paid a lot of money for the phone. But - and this is not unimportant - it's also distressing because you probably have a treasure trove of personal data stored on it. Just think of all the photos of important moments and of your children, your entire calendar and complete list of telephone numbers.
In short, it doesn't bear thinking about. But should it happen after all, then you'll be well armed against this mishap. My 2 main tips:
Back-up as a basis

It's really very simple and it'll save a lot of cursing afterwards. Just make a back-up copy of your smartphone on a regular basis and store it on your laptop or computer. Be sure to make as comprehensive a copy as possible, including contacts and the content of your apps. Incidentally, it's completely free of charge. And once it's configured, the back-up takes place automatically, without you even having to think about it.

The back-up options are always found in the first screen of your smartphone's settings. With Android you can back up to your Gmail account. With iOS you can back up to your iCloud or via iTunes. And with a Windows Phone you synchronize with your Windows account.

Alternatively, you can always back up to our free Proximus Cloud, of which the first 10 GB are included free of charge in your Internet subscription. In a previous article of mine I explain in detail how this works.

Install or activate a free tracking service

In addition, I advise you to install or activate the relevant program to allow you to remotely locate, lock or completely erase your smartphone. Play the villains a nasty trick!

Apple offers the Find my iPhone app for free in the App Store. With Windows Phone the equivalent is simply called "Find my Phone", which you access through your phone settings.

Android also has such an option of course. Through "Android device management" in your phone settings, you can link your smartphone to your Gmail account. In case of problems, go to "Find Android" in Google and track your phone.

There are therefore a large number of anti-theft and anti-loss solutions for your smartphone, and that's just as well. But if an ill-intentioned individual switches off the phone and takes out the battery, or if there's no network, all this is not of much use. In any case, a very good way of protecting your phone is to take out our Smartphone Omnium insurance to avoid any headaches in case your phone is lost or stolen!
Erik
Digital und Content Marketer. Gartenarbeit ist meine Leidenschaft, genau wie Essen. Aber gleich nach dem Spielen einiger Serien oder Filme, denn das ist mein Ding.
Andere Artikel von Erik