Stream, share and surf without stress
Veröffentlicht am 01/09/2017 in Tipps und Tricks von...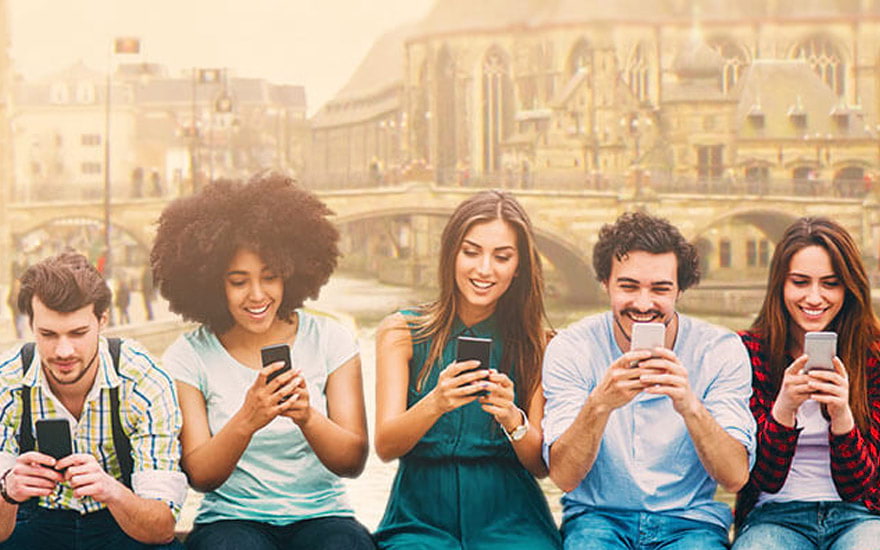 No more worries: with us, you have enough mobile data for doing lots of cool stuff. You can surf away, share your finest moments, or check Instagram and the like. Or stream your favorite music, or even the latest Netflix series. Yep, also on the go.
Just look at the things you can do with 1 GB:
1,000
photos to share on Instagram
Share your most pleasing selfies with your crew. And also the most cringeworthy.
1.5
hours of live stream on Facebook
Let everyone else enjoy that sublime song with you.1
300
hours of live stream on Facebook
Let everyone else enjoy that sublime song with you.1
30
hours of streaming music
Play all your favorite tracks one after the other on the camping.
5
hours of watching videos
Take a breather with funny YouTube videos or Netflix.1
3.5
hours of video calling home
Ideal for letting the home front know you're still alive, via WhatsApp.
A few must-have apps to use anytime, anyplace
With more data you can also use apps all day long, without a worry. Can't decide which app to download first? We've selected a few must-have apps for your smartphone. Try them out!
Stay connected with your friends
Share fun experiences and always know what you're friends are up to.
And with Mobilus you also receive unlimited data for one of these apps!
Be prepared, wherever you go
Check the weather and discover the best addresses for a good meal or overnight stay.
And you don't have to worry about how to drive there either.
Stay informed and relax
Keep up to date with the news and be the first to hear about Trump's latest antics.
Unwind with your favorite tracks or amusing video clips.
Check your data usage anytime with MyProximus
Fast and easy, online or via the app. With MyProximus you immediately know how much mobile data you've used up and still have left.
Install the MyProximus app
Including text alerts
No time to check your usage? We can help. You will receive a text from us as soon as you've used up 80% and 100% of your mobile data bundle.
---
Enjoy your data without any worries
Because you choose the Mobilus that suits you. So you can always surf, share, and stream away – no matter how data hungry you are. Best of all, each Mobilus includes unlimited mobile data for your favorite app, throughout the EU!
Katleen
Effizient sein, das ist mein 'Ding'. Erwarten Sie konkrete Tipps, Apps und Services, die es Ihnen leicht machen!
Andere Artikel von Katleen