Best friends with the LG G5
Veröffentlicht am 20/05/2016 in Bits und Bytes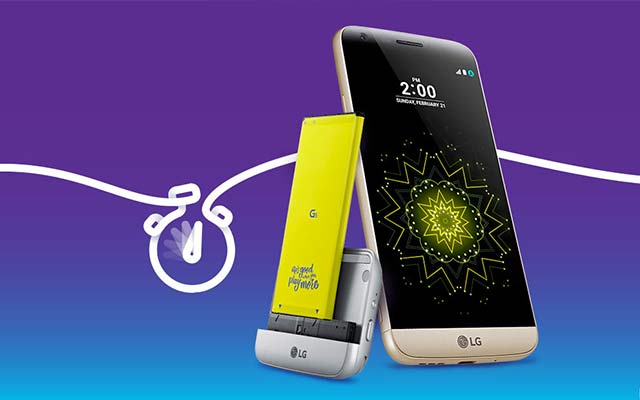 It's often said that you can count your true friends on one hand. Those are "physical" friends or people, but your social circle is expanding to include another kind of friend.
I consider a smartphone a "kind of friend", or at least a "friend to be". Indeed, in the pre-smartphone era we called them personal assistants, and their main task was to manage our schedules. These days, they can do a whole lot more so it's not a stretch to promote them from "assistant" to "friend". And what is it you like to do most with your friends? Enjoy yourself, of course! People are talking about the new kid on the block: the LG G5 & Friends!
Fantastic snapshots
The device is what you'd expect from a top-range LG: innovative. It's a modular smartphone that can be extended to enhance your photo and music experience (more about this later). This LG also boasts a sleek metal design with an impressive camera. Thanks to the dual lens on the rear, you can take very wide-angle shots with the G5, and capture more than you actually see. What's more, photography fans can manually configure most of the camera settings and shoot in RAW format.
Quick and easy
Another innovation is the USB-C port for charging the G5 or connecting it to another device. With USB-C, the plug has no up or down orientation so it's easy to connect. The power output is also higher, which means faster charging. You can even slide out the battery of the device. This way, LG retains both its sleek design and the convenience of removing the battery.
Modular fun
The South Korean manufacturer has developed a range of extra games and extensions on the G5 for your entertainment, whether alone or with friends. This is where the modular aspect comes in. What can you expect?
For a better grip while taking photos, LG developed the CAM Plus module. You attach it to the device by sliding out the bottom part and placing the CAM Plus module on top of it. The module has larger physical buttons for taking photos and shooting videos, for zooming in and out, and even an extra battery.
Another module transforms the G5 into a Hi-Fi player, designed in cooperation with B&O. You can connect a 360° camera to the smartphone combining two 13-megapixel, wide-angle lenses. It is equipped with three microphones so you can take your own 360° videos. The videos are best seen using LG's virtual glasses, the 360°VR glasses. Fun guaranteed!
These are three cool modules, but that's not all. There's even a rolling ball you can control like a robot. The complete modular aspect of the G5 is best seen in the following video:
In short, the new LG G5 can become your friend – perhaps not a friend for life, but a good mate all the same. The LG G5 is available from 29 April, but you can already pre-order!
Michel
Working in the Devices team, I gladly share the innovations we encounter. My passions are photography, modern & contemporary arts and being outdoors.
Andere Artikel von Michel