Here are the best children's series on Netflix
Veröffentlicht am 23/12/2016 in Showtime!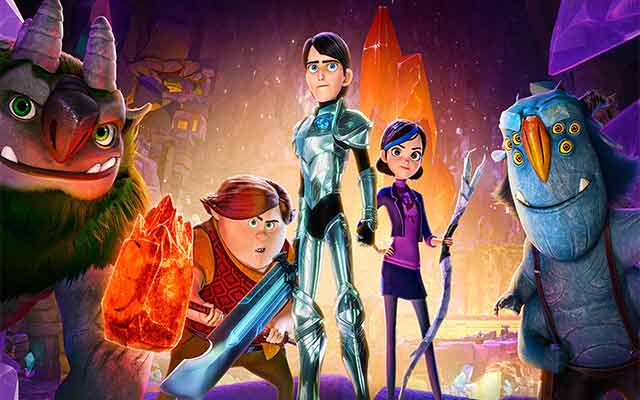 Ideal for keeping your kids sweet!
The school gates have closed, and now it's my turn to look for things to keep my kids busy. Not an easy task, especially during the cold winter months. But thank goodness for Netflix, where they can watch lots of movies and series specially created for them.
I examined the offer and picked the top five series for kids:
Trollhunters
Jim is an ordinary teenager living in a suburb of Arcadia. Everything changes, however, when he stumbles upon a magic amulet. Jim and his friends go on to discover a secret world underneath their hometown, full of good trolls. But there's also an army of evil monsters. The friends become embroiled in an ancient battle, which also threatens the people living above ground…
1 season with 26 episodes.
Inspector Gadget
Lots of mums and dads will remember him. Well, the Inspector is back, and must again confront his mortal enemy, Dr. Claw, who has reactivated his crime organization M.A.D.
1 season with 13 episodes of 22 minutes.
Angry Birds
You're probably familiar with the game – now there's the animation series. Red, Chuck and their feathered friends go on all kinds of adventures as they watch over the eggs that the bothersome pigs are always trying to steal from the nest.
2 seasons with 23 episodes of 20 minutes.
Care Bears & Family
Another blast from the past, with new life breathed into it. After the popular movies, there is now an enjoyable series. And this time, the bears have brought their huggable family along, for double the fun!
2 seasons with 12 episodes of 20 minutes.
Pokémon: the series XY
After the incredible '90s series, Ash and Pikachu are back with new adventures and dreams. These lead them to Kalos, where they meet new Pokémon and have to unravel intriguing mysteries…
1 season with 48 episodes of 20 minutes.
Don't have Netflix? Then I have good news for you! If you opt for our strongest all-in, Tuttimus, you receive 3 months of Netflix for free. Ideal for the kids and to help you all get through those cold winter months.
But that's not all. With Tuttimus you now also get a blockbuster of your choice via Proximus TV, totally free of charge.
Peter
Ich habe eine Leidenschaft für das Internet und die Kommunikation und bin ein großer Fan unserer Marke.
Andere Artikel von Peter