An even stronger network, also where you don't expect it
Veröffentlicht am 31/05/2017 in Seien Sie der Erste, der es erfährt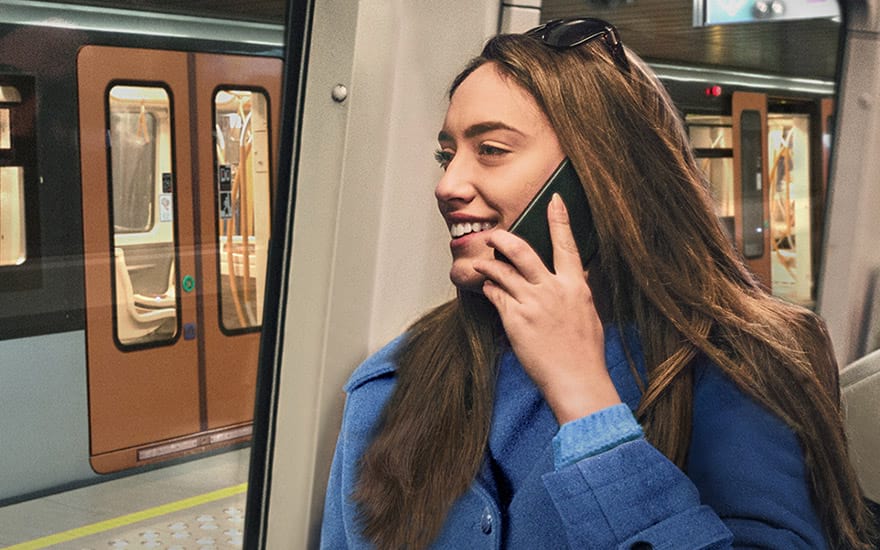 Because obviously, you don't sit at home the whole time.
Not at all, you get out and about regularly. And then it's only logical that you're easily reachable, wherever you are. Even mobile Internet and downloading videos are sometimes part of it.
We understand that. That's why we make sure you can rely on Belgium's strongest network, no matter where you are.
On the road or deep underground...
When you're on the move you want to be contactable at all times, without any interruptions. Especially if you want to call to say you'll be late. That's why we've made sure there's top-notch coverage, even in the major road tunnels. Such as the tunnels on the Brussels inner ring and Antwerp's Kennedy tunnel.
But that's not all. We've equipped the entire metro network in Brussels with 4G, so you can even enjoy fast mobile Internet deep underground. Ideal for killing some time while on the move.
On the festival fields...
Time and again, during every festival season, we find that you're massively sharing what happens out on the field. And nowadays you increasingly even share videos in HD via, say, WhatsApp, Snapchat and Facebook. Rightly so!
That's why we're again providing extra capacity at practically all large festivals this year. This way you can stay in contact en masse with the home front. From Rock Werchter and Tomorrowland to Moonrock and Studay: we'll be there for you!
View here the full list of summer festivals where we're boosting our network.
And all year round, at the best concerts...
Want to let the home stayers enjoy that brilliant song of your most favorite artist ever? No problem, because this is now possible quickly and stably in Belgium's largest concert halls. For instance, in the AB, Sportpaleis and Flanders Expo venues.
View here the full list of concert halls where we've boosted our network.
During an afternoon's shopping...
When your partner is in the fitting room for the umpteenth time, you may want to have a quick nose around on Facebook. Or perhaps you yourself want to share an outfit with friends, to ask their opinion.
We make sure that you can do so without any problems. Even deep inside Belgium's largest shopping centers, our network now allows you to call and share without a hitch.
View here the full list of shopping centers where we've boosted our network.
Or in the stands...
Excitement all around. And then comes your club's brilliant goal, which you want to share with the world right away. Or you just want to quickly check the half-time score of another match.
Since more and more supporters are doing this at the same time, we've also boosted our network in these places. Now, for example, you can already rely on having fast Internet in the larger football stadiums.
Totally ready to call, surf and text on the network with the best coverage in Belgium? Then opt now for the Mobilus formula that fits you to a tee. We have something for everyone!
Erik
Digital und Content Marketer. Gartenarbeit ist meine Leidenschaft, genau wie Essen. Aber gleich nach dem Spielen einiger Serien oder Filme, denn das ist mein Ding.
Andere Artikel von Erik