A stronger online presence for your business with our free workshops
Veröffentlicht am 20/08/2018 in Veranstaltungen & Aktivitäten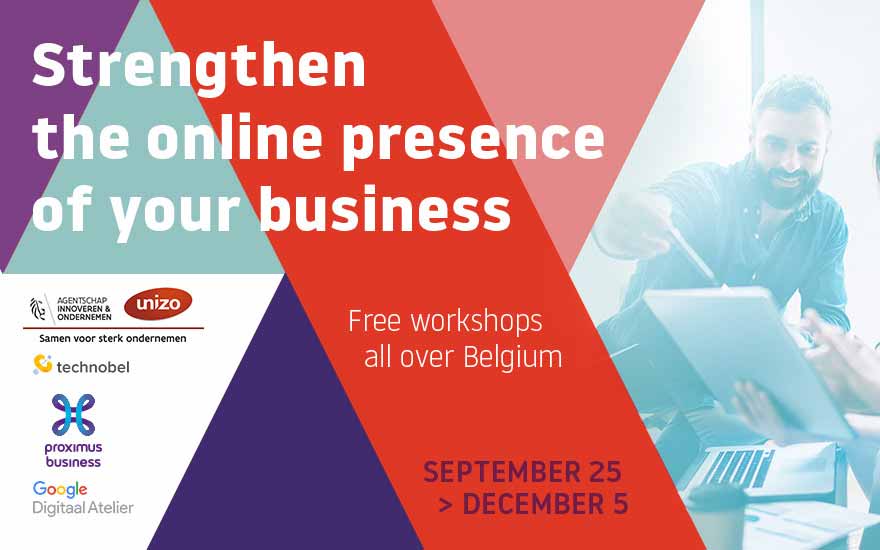 Your business has probably gone through a number of changes over the last few years. It's true that the internet has shaken up pretty much every industry. An online presence is no longer just an option – today it is an absolute must. Is your website outdated? Or perhaps you're still wondering whether the internet can give your business a boost? If so, the workshops, organised by Proximus, UNIZO and Google, are there to help.
What are these workshops about?
Finding good digital expertise isn't easy. And for a smaller business, it can often be very expensive. This is something Proximus, Google, UNIZO and Technobel are keen to see change. We provide free sessions on everything digital. The sole purpose is to get your business on the right online track.

What can you expect? Free digital advice. Concrete tips on websites and everything related to them. Short exercises that will show you how to put these tips in practice. Put simply: interactive sessions that will help you and your business go online. They are ideal for every entrepreneur, regardless of your current knowledge or the depth of your pockets.
A ton of invaluable advice
No stuffy theory during our sessions, but real and concrete tips. You'll leave with …
A clear idea of the content that's crucial for your web copy;
Clever tips on how to attract more visitors to your site;
All the information on search engine optimisation and advertising on Google;
Handy tools that will help you make and improve a website;
Quick wins that will bring you success in a heartbeat.
Attending a workshop?
During the sessions organised by Proximus, UNIZO and Google, you will certainly learn a lot that you can immediately start applying to your business. You don't even need to commute; our experts are going all around the country. Sessions are being held in every corner of Flanders, Brussels and Wallonia. You'll find a session that fit your schedule here:
Is your company website in need of an upgrade? Has your business got a website to begin with? Come to one of our workshops! They're free, close-by and incredibly enriching!
Questions about our offers?
An advisor is at your service